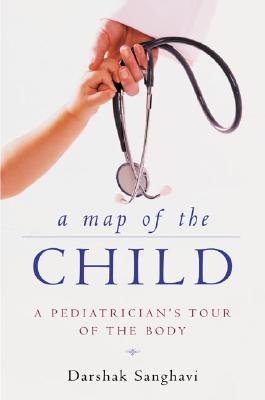 A Map of the Child
A Pediatrician's Tour of the Body
Hardcover

* Individual store prices may vary.
Other Editions of This Title:
Paperback (1/1/2004)
Description
During his residency at the legendary Children's Hospital in Boston, a young doctor explores the inner workings of a child's body

Dr. Darshak Sanghavi has learned to read the body-to recognize patterns of sickness, apply modern medical technology when warranted, and to offer comfort through human contact, all vital skills when working with patients who are often too young or too ill to speak. In this compelling book, he shares his experiences by taking the reader on a dramatic tour of a child's eight vital organs, beginning with the lungs and proceeding through the heart, blood, bones, brain, skin, gonads, and gut.

Along the way, we meet children and families in extraordinary circumstances, such as a premature baby named Adam Flax who was born with undeveloped lungs, a Japanese infant with a blockage in his heart, a young girl who sees ghosts and grows too fast, a teenage boy with a positive pregnancy test, and a young girl who keeps losing weight despite her voracious appetite. Using such stories as windows on the wonders and tragedies of human biology, the author examines the development and inner workings of children's bodies from birth through adolescence.

In a deeply personal narrative, Sanghavi comes to terms with the great advances and continued limitations of modern medicine, even as he provides a richly detailed-and humanized-portrait of how the pediatric body functions in sickness and health.
Praise For A Map of the Child: A Pediatrician's Tour of the Body…
"A delightful, quirky, awe-inspiring journey into the science and stories of the insides of little people. Who would expect a book about anatomy to be a page turner? But this one is. Sanghavi is a vivid and effortless teller of human tales and quite evidently a special doctor, too. Pick up the book anywhere. You'll find strange cases, fascinating discoveries, ingenious diagnoses, beautiful puzzles beautifully recounted. I defy you to put it down."-Atul Gawande, author of Complications: A Surgeon's Notes on an Imperfect Science

"A Map of the Child is a wonderful romp through the human body as seen through the eyes of a discerning and sensitive pediatrician. Sanghavi's organizes his material by organ systems, but this simply gives him a launching point to take the reader on spellbinding excursions. His writing delves deep into the heart of what medicine is and the miracles and hazards of the voyage of childhood."-Abraham Verghese, author of The Tennis Partner and My Own Country

"Dr. Sanghavi teaches by example and complements his stories with science, medicine, religion, philosophy and social commentary. Having watched Dr. Sanghavi's own development as a pediatrician, it is wonderful to observe the power that his personal learning experience can now have on others, be they medical colleagues, parents or general readers. Indeed, Dr. Sanghavi provides a roadmap and directory for understanding the impact of illness on children as well as those who care for them."-Philip A. Pizzo, MD, Dean, Stanford University School of Medicine

"Appealing and informative...An elucidation of the human child's organs, the how and why of illnesses that strike them, and such related issues as circumcision, vaccination, abortion, and child abuse-all enriched by the author's personal memories. Sanghavi describes this work as part of his "quest to learn humanity," a goal he has heartwarmingly achieved."-Kirkus Reviews

"An outstanding quality of this work is that it shows how the author handles controversial issues, such as abortion and child abuse, in an objective and level-headed manner."-Library Journal, starred review

132"An example of expert storytelling-a true page turner. [Sanghavi's] profession has provided him with a wealth of illuminating stories that he weaves together seamlesly...Compelling, thoughtful and informative."-Albert L. Huebner, Bookpage
Henry Holt and Co., 9780805067248, 320pp.
Publication Date: January 1, 2003
About the Author
Darshak Sanghavi graduated from Harvard and Johns Hopkins University. He has done medical research in Japan, India, Kenya, and Peru, and until recently was a pediatrician for the U.S. Indian Health Service, where he lived on a Navajo reservation in New Mexico. He is currently practicing pediatric cardiology at Boston's Children's Hospital and lives in Boston with his wife and son.
or
Not Currently Available for Direct Purchase