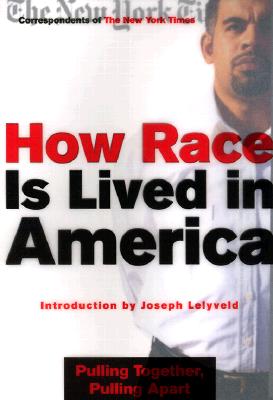 How Race Is Lived in America: Pulling Together, Pulling Apart (Hardcover)
Pulling Together, Pulling Apart
Times Books, 9780805067408, 400pp.
Publication Date: April 1, 2001
* Individual store prices may vary.
or
Not Currently Available for Direct Purchase
Description
In 1999, the New York Times embarked on the most ambitious project in its history. Starting with one central question--What are race relations like today?--a dedicated group of editors and writers began work on an intense, demanding form of narrative journalism, finding compelling stories in fifteen communities around the nation and following their subjects for up to a year until their stories played out. The result, How Race Is Lived in America, captures the emotions and candid words that often churn just below the surface and presents an uncommon view of the country's private and public discourse on race.

Whether it's the struggles of a biracial partnership in a high-tech start-up, the tension-filled merger of a white church with a black church in the South, the simmering resentments of a multiracial slaughterhouse workforce, or the hip-hop dreams of a suburban white teenager, the powerful and intimate stories in this book follow real people leading complex lives, often but not always side by side.

Aqeelah Mateen, one of a trio of young friends in Maplewood, New Jersey, finds herself torn by racial identity as she approaches adulthood. Sergeant Maria Brogli suspects that the black undercover officers on her Harlem narcotics squad fear being accidentally shot by white officers. Achmed Valdes, a white immigrant from Cuba, wonders why his best friend from Havana has chosen to align himself with Miami's black community. As each shares hopes, fears and assumptions, an intricate and poignant understanding of race relations emerges.

Throughout these chronicles, which are enriched by an extensive poll and commentary from the journalists and citizens, it is clear that America has not become two distinct nations--one black and one white--as was feared a generation ago. America is now an inescapably multiracial society, discovering day by day how perceptions of race affect the fabric of human relationships. But deep divisions and frustrations persist, in minds and hearts if not in the laws of the land.

This landmark book offers a personal yet panoramic view of real-world conflict and aspiration, pain and resolution--a portrait of a country torn apart and brought together by its attitudes towards race
About the Author
"The New York Times" team is comprised of Ira Berkow, Dana Canedy, Timothy Egan, Amy Harmon, Steven A. Holmes, N. R. Kleinfield, Charlie LeDuff, Tamar Lewin, Mireya Navarro, Mirta Ojito, Kevin Sack, Janny Scott, Don Terry, Ginger Thompson, and Michael Winerip. Joseph Lelyveld is executive editor of "The New York Times."
Praise For How Race Is Lived in America: Pulling Together, Pulling Apart…
"This is reporting at its best. This is how sociology should be, a comprehensive view in depth on a major social problem in America. This will be a benchmark for all future inquiries."--Daniel Bell, professor emeritus, Harvard University

"How Race Is Lived in America expands the boundaries of daily journalism. Resolutely avoiding stereotypes, cliches, and official wisdom, the New York Times team has gotten to the rich and complicated heart of the most persistently difficult theme in our country's history. It stands not just as an outstanding portrayal of race relations, but as proof that with time, persistence, and a willingness to listen, reporters can convey not just the sayings and doings of important people, but a true sense of American life."--Nicholas Lemann
Advertisement