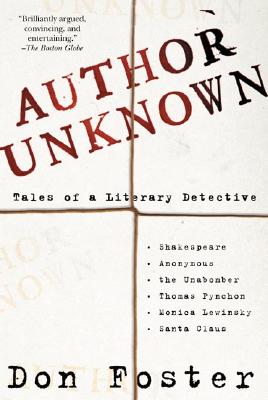 Author Unknown (Paperback)
Tales of a Literary Detective
Holt Paperbacks, 9780805068122, 320pp.
Publication Date: September 1, 2001
Other Editions of This Title:
Hardcover (11/1/2000)
* Individual store prices may vary.
Description
From the professor with an extraordinary gift for unmasking the authors of anonymous documents comes the inside story of how he solves his most challenging cases.
In "Author Unknown," Don Foster reveals a starling fact: since no two people use language in precisely the same way, our identities are encoded in our own language, a kind of literary DNA. Combining traditional scholarship with modern technology, Foster has discovered how to unlock that code and, in the process, has invented an entire field of investigation--literary forensics--by which it becomes possible to catch anonymous authors as they ultimately betray their identities with their own words.
Foster's unique skills first came to light when a front-page "New York Times "article announced his discovery that a previously unattributed poem was written by Shakespeare. A few weeks later, Foster solved the mystery that had obsessed America for months when he identified Joe Klein as the author of Primary Colors. Foster also took on the case of an oddball California bag lady who many believed to be the elusive Thomas Pynchon. His contributions to the Unabomber case takes us inside the tangled mind of Ted Kaczynski. And, in the final chapter, Foster makes a surprising-and heartening-discovery about a beloved holiday icon.
As entertaining as it is eye opening, "Author Unknown "shows us how Don Foster uses his unusual methods to search out the hidden identities behind anonymous documents of all kinds. Anyone who reads this remarkable book will find it impossible to read-or write-in the same way as before.

About the Author
Don Foster is a professor of English literature at Vassar College. He has assisted with dozens of criminal investigations and civil suits involving anonymous or pseudonymous writings. He lives in Poughkeepsie, New York, with his wife and two sons.
Praise For Author Unknown: Tales of a Literary Detective…
"[Foster's] accounts of his high-profile roles in transatlantic Shakespearean squabbles and journalistic whodunits are both personable and page-turning"--Publishers Weekly, starred review

"[A] hell of an interesting book: Foster writes precisely and artfully, with easy humor and a cadenced wit."--Salon.com
or
Not Currently Available for Direct Purchase