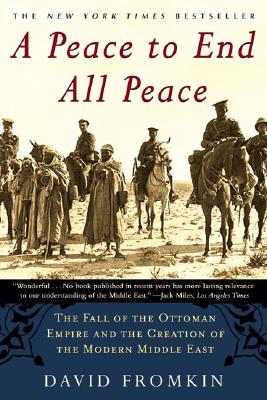 A Peace to End All Peace
The Fall of the Ottoman Empire and the Creation of the Modern Middle East
Paperback

* Individual store prices may vary.
Other Editions of This Title:
MP3 CD (12/25/2018)
Compact Disc (12/25/2018)
MP3 CD (12/25/2018)
Compact Disc (12/25/2018)
Hardcover, Chinese (9/1/2020)
Compact Disc (12/25/2018)
Paperback (12/1/1990)
Description
The critically acclaimed "New York Times" bestselling account of how the modern Middle East came into being after World War I, and why it is in upheaval today
In our time the Middle East has proven a battleground of rival religions, ideologies, nationalisms, and dynasties. All of these conflicts, including the hostilities between Arabs and Israelis that have flared yet again, come down, in a sense, to the extent to which the Middle East will continue to live with its political inheritance: the arrangements, unities, and divisions imposed upon the region by the Allies after the First World War.
In "A Peace to End All Peace," David Fromkin reveals how and why the Allies came to remake the geography and politics of the Middle East, drawing lines on an empty map that eventually became the new countries of Iraq, Israel, Jordan, and Lebanon. Focusing on the formative years of 1914 to 1922, when all-even an alliance between Arab nationalism and Zionism-seemed possible he raises questions about what might have been done differently, and answers questions about why things were done as they were. The current battle for a Palestinian homeland has its roots in these events of 85 years ago.

Praise For A Peace to End All Peace: The Fall of the Ottoman Empire and the Creation of the Modern Middle East…
"Wonderful...No book published in recent years has more lasting relevance to our understanding of the Middle East."—Jack Miles, Los Angeles Book Review

"Extraordinarily ambitious, provocative and vividly written...Fromkin unfolds a gripping tale of diplomatic double-dealing, military incompetence and political upheaval."—Reid Beddow, Washington Post Book World

"Ambitious and splendid...An epic tale of ruin and disillusion...of great men, their large deeds and even larger follies."—Fouad Ajami, The Wall Street Journal

"[It] achieves an ideal of historical writing: its absorbing narrative not only recounts past events but offers a useful way to think about them....The book demands close attention and repays it. Much of the information here was not available until recent decades, and almost every page brings us news about a past that troubles the present."—Naomi Bliven, The New Yorker
"One of the first books to take an effective panoramic view of what was happening, not only in Egypt, Palestine, Turkey, and the Arab regions of Asia but also in Afghanistan and central Asia....Readers will come away from A Peace to End All Peace not only enlightened but challenged—challenged in a way that is brought home by the irony of the title."—The New York Times Book Review
Holt Paperbacks, 9780805068849, 672pp.
Publication Date: October 1, 2001
About the Author
Historian David Fromkin is a professor at Boston University and the author of several acclaimed books of nonfiction. He lives in New York City.
or
Not Currently Available for Direct Purchase