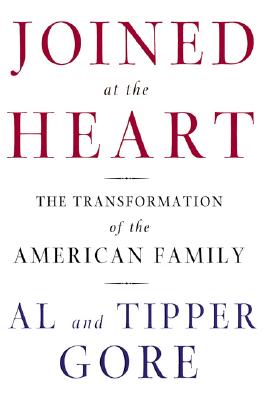 Joined at the Heart: The Transformation of the American Family (Hardcover)
The Transformation of the American Family
Henry Holt and Co., 9780805068931, 432pp.
Publication Date: November 1, 2002
* Individual store prices may vary.
or
Not Currently Available for Direct Purchase
Description
Former Vice President and bestselling author Al Gore collaborates with his wife, Tipper, on a groundbreaking book about the changing face of the American family

Al and Tipper Gore have long considered family their bedrock. They've also spent many years studying the American family, and now, in this provocative and personal book, they explore the myriad ways in which the idea of family is being redefined.

Over the past two generations, cultural shifts and economic pressures have profoundly affected every family in the nation: balancing work and family now poses a bigger challenge than ever before, day-care and after-school child care programs are too often dangerously inadequate, and new technological advancements have dramatically changed the ways we communicate. But if many of the traditional landmarks by which families formerly steered their course have disappeared, change has also opened up exciting possibilities, yielding an explosion of new family forms and novel solutions to age-old problems.

In this penetrating and moving exploration of the contemporary family landscape, the Gores share stories drawn from their own experiences, as well as introduce us to a dozen other families they have come to know over the years. Combining personal insight and expert opinions, historical and global perspectives, Joined at the Heart identifies an emerging reality-and demonstrates that, in the face of unprecedented change, the inherent need for family is stronger than ever.
About the Author
Al Gore is the former Vice President of the United States and author of the "New York Times" bestseller "Earth in the Balance." During twenty-five years of public service, he has made the family a priority by fighting for programs and policies that are responsive to the needs of families and communities. He is now a professor at both Fisk University and Middle Tennessee State University, where he teaches "Family-Centered Community Building."

Tipper Gore is an advocate for mental health awareness and served as an Adviser to the President on Mental Health Policy from 1993 to 2001. She worked as a photojournalist for the "Tennessean "and published a collection of her photographs, "Picture This," in 1996. Her first book, "Raising PG Kids in an X-Rated Society," was published in 1987.

For the past eleven years, the Gores have organized an annual two-day forum called Family

Re-Union. They have four children and two grandchildren, and live in Nashville, Tennessee.
Advertisement