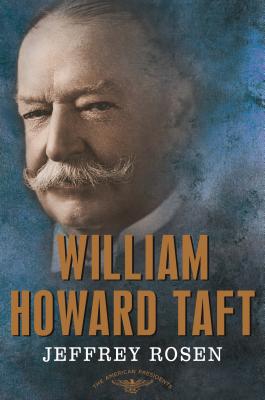 William Howard Taft (Hardcover)
The American Presidents Series: The 27th President, 1909-1913
Times Books, 9780805069549, 208pp.
Publication Date: March 20, 2018
Other Editions of This Title:
MP3 CD (5/15/2018)
Compact Disc (5/15/2018)
* Individual store prices may vary.
Description
The only man to serve as president and chief justice, who approached every decision in constitutional terms, defending the Founders' vision against new populist threats to American democracy
William Howard Taft never wanted to be president and yearned instead to serve as chief justice of the United States. But despite his ambivalence about politics, the former federal judge found success in the executive branch as governor of the Philippines and secretary of war, and he won a resounding victory in the presidential election of 1908 as Theodore Roosevelt's handpicked successor.
In this provocative assessment, Jeffrey Rosen reveals Taft's crucial role in shaping how America balances populism against the rule of law. Taft approached each decision as president by asking whether it comported with the Constitution, seeking to put Roosevelt's activist executive orders on firm legal grounds. But unlike Roosevelt, who thought the president could do anything the Constitution didn't forbid, Taft insisted he could do only what the Constitution explicitly allowed. This led to a dramatic breach with Roosevelt in the historic election of 1912, which Taft viewed as a crusade to defend the Constitution against the demagogic populism of Roosevelt and Woodrow Wilson.
Nine years later, Taft achieved his lifelong dream when President Warren Harding appointed him chief justice, and during his years on the Court he promoted consensus among the justices and transformed the judiciary into a modern, fully equal branch. Though he had chafed in the White House as a judicial president, he thrived as a presidential chief justice.
About the Author
Jeffrey Rosen is the author of six books, most recently Louis D. Brandeis and William Howard Taft. He is the president and chief executive officer of the National Constitution Center, a law professor at George Washington University, and a contributing editor for The Atlantic. He was previously the legal affairs editor of The New Republic and a staff writer for The New Yorker.

Arthur M. Schlesinger, Jr., (1917-2007) was the preeminent political historian of our time. For more than half a century, he was a cornerstone figure in the intellectual life of the nation and a fixture on the political scene. He won two Pulitzer prizes for The Age of Jackson (1946) and A Thousand Days (1966), and in 1988 received the National Humanities Medal. He published the first volume of his autobiography, A Life in the Twentieth Century, in 2000.

Sean Wilentz, a professor of history at Princeton University, is the author or editor of several books, including Chants Democratic and The Rise of American Democracy. He has also written for The New York Times, the Los Angeles Times, The New Republic, and other publications. He lives in Princeton, New Jersey.
Praise For William Howard Taft: The American Presidents Series: The 27th President, 1909-1913…
"Rosen aptly observes that by some measures — trusts prosecuted, acreage protected, tariffs reduced — Taft was more progressive than Roosevelt. Yet his style could hardly have been less Rooseveltian. Rosen, a law professor and a biographer of Louis Brandeis, makes a compelling argument for Taft's importance as a conservator of the Constitution on the subject of presidential powers."—The Washington Post
"Rosen's writing is clear and his research shines. This well-written and well-told story is in some ways more relevant today than when it happened. Do not miss this one."—San Francisco Book Review

"This slim, well-researched and well-written biography substantially beefs up Taft's reputation."—Forbes