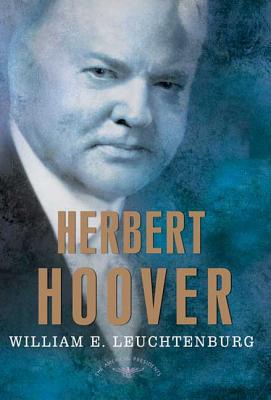 Herbert Hoover (Hardcover)
The American Presidents Series: The 31st President, 1929-1933
Times Books, 9780805069587, 208pp.
Publication Date: January 6, 2009
* Individual store prices may vary.
Description
The Republican efficiency expert whose economic boosterism met its match in the Great Depression
Catapulted into national politics by his heroic campaigns to feed Europe during and after World War I, Herbert Hoover—an engineer by training—exemplified the economic optimism of the 1920s. As president, however, Hoover was sorely tested by America's first crisis of the twentieth century: the Great Depression.
Renowned New Deal historian William E. Leuchtenburg demonstrates how Hoover was blinkered by his distrust of government and his belief that volunteerism would solve all social ills. As Leuchtenburg shows, Hoover's attempts to enlist the aid of private- sector leaders did little to mitigate the Depression, and he was routed from office by Franklin D. Roosevelt in 1932. From his retirement at Stanford University, Hoover remained a vocal critic of the New Deal and big government until the end of his long life.
Leuchtenburg offers a frank, thoughtful portrait of this lifelong public servant, and shrewdly assesses Hoover's policies and legacy in the face of one of the darkest periods of American history.
About the Author
William E. Leuchtenburg, a professor emeritus at the University of North Carolina at Chapel Hill, is a noted authority on twentieth-century American history. A winner of both the Bancroft and Parkman prizes, he is the author of numerous books on the New Deal, as well as the American President Series biography of Herbert Hoover. In 2008, he was chosen as the first recipient of the Arthur M. Schlesinger Jr. Award for Distinguished Writing in American History of Enduring Public Significance.

Arthur M. Schlesinger, Jr., (1917-2007) was the preeminent political historian of our time. For more than half a century, he was a cornerstone figure in the intellectual life of the nation and a fixture on the political scene. He won two Pulitzer prizes for The Age of Jackson (1946) and A Thousand Days (1966), and in 1988 received the National Humanities Medal. He published the first volume of his autobiography, A Life in the Twentieth Century, in 2000.

Sean Wilentz, a professor of history at Princeton University, is the author or editor of several books, including Chants Democratic and The Rise of American Democracy. He has also written for The New York Times, the Los Angeles Times, The New Republic, and other publications. He lives in Princeton, New Jersey.
Praise For Herbert Hoover: The American Presidents Series: The 31st President, 1929-1933…
"Powerful… [Herbert Hoover] is a superb example of the vitality and importance of political history… Mr. Leuchtenburg's biography reminds us that the personalities, actions and beliefs of political leaders have a profound effect on the rest of us." —The New York Observer
"Memorable… Hoover's chronicler, William E. Leuchtenburg… writes like an angel and spices his narrative with trenchant judgments about a president who seemed like Superman when he took office in 1929 but who quickly lost his magical powers in the face of the Great Depression… Readers will quite likely delight in discovering more for themselves." —The Dallas Morning News
"In this meaty little book, [Leuchtenburg] brings to the life of Hoover his own lifetime of study of this watershed moment in the American past… He is one of the foremost authorities on the 1930s, the New Deal, and FDR." —Slate.com
"[A] frank, thoughtful literary portrait… This is a fair and balanced reassessment of Herbert Hoover and his legacy that is long overdue." —Tucson Citizen
"William E. Leuchtenburg's… Herbert Hoover [is] a wonderful and instructive biography." —Richard Cohen, The Washington Post
"Timely." —The Bloomsbury Review
"A brilliantly written cautionary tale for those who believe a hard-nosed businessman would bring a breath of fresh air to the American presidency." —Kirkus Reviews (starred review)
"In this outstanding addition to the American Presidents series, Bancroft Prize-winning historian Leuchtenburg… brings vivid prose and strong opinions to this richly insightful biography of a president whose impressive business acumen served him poorly." —Publishers Weekly (starred review)