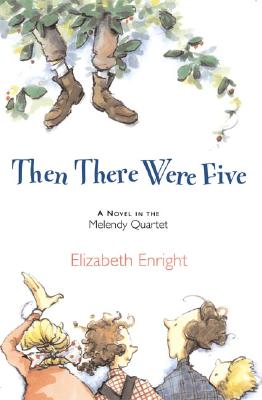 Then There Were Five (Hardcover)
Henry Holt and Co. (BYR), 9780805070620, 272pp.
Publication Date: January 22, 2008
* Individual store prices may vary.
or
Not Currently Available for Direct Purchase
Description
With the arrival of Mark Herron, an orphan whom the Melendys befriend in their usual wholehearted way, a summer already full of happenings reaches yet another level of richness and fun.

"All summer!" said Rush, with his mouth full. "Think of it. All summer long."
"All summer what?" Mona wanted to know.
"Just all summer," Rush said happily. "I mean this is only the beginning of it. Dams and swimming and the garden and picnics and hot days and all. Oh, boy."
"Sometimes it will rain. And sometimes we'll get stomach-aches. And sometimes Cuffy will be cross," said Oliver realistically.
Rush laughed. "A pessimist at seven."

With Father in Washington and Cuffy away visiting a sick cousin, almost anything might happen to the Melendys left behind at the Four-Story Mistake. In the Melendy family, adventures are inevitable: Mr Titus and the catfish; the villainy of the DeLacey brothers; Rush's composition of Opus 3; Mona's first rhubarb pie and all the canning; Randy's arrowhead; the auction and fair for the Red Cross. But best of all is the friendship with Mark Herron which begins with a scrap-collection mission and comes to a grand climax on Oliver's birthday.
Here is Elizabeth Enright's story of a long and glorious summer in the country with the Melendy family.
About the Author
Elizabeth Enright (1909-1968) was born in Oak Park, Illinois, but spent most of her life in or near New York City. Originally envisioning a career solely in illustration, she studied art in Paris, France, and at the Parson's School of Design in New York City. After creating her first book in 1937, she developed a taste -- and quickly demonstrated a talent -- for writing.

Throughout her life, Elizabeth Enright wrote and illustrated numerous books, winning many awards in the process. Among those awards were the 1939 John Newbery Medal for "Thimble Summer" and a 1958 Newbery Honor for "Gone-Away Lake." The first of the Melendy Quartet, "The Saturdays," was published in 1941. Translated into numerous languages throughout the world, her stories have been known and loved by many for generations.
Praise For Then There Were Five…
"The Melendys are the quintessential storybook family...[their] ardent approach to living is eternally relevant." -- Publishers Weekly
Advertisement