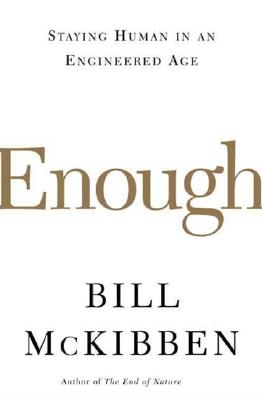 Enough
Staying Human in an Engineered Age
Hardcover

* Individual store prices may vary.
Other Editions of This Title:
Digital Audiobook (3/31/2003)
Paperback (2/1/2004)
Compact Disc, Abridged, Abridged (4/1/2003)
Description
From the bestselling author of The End of Nature comes a passionate plea to limit the technologies that could change the very definition of who we are

We are on the verge of crossing the line from born to made, from created to built. Sometime in the next few years, a scientist will reprogram a human egg or sperm cell, spawning a genetic change that could be passed down into eternity. We are sleepwalking toward the future, argues Bill McKibben, and it's time to open our eyes.

In The End of Nature, nearly fifteen years ago, McKibben demonstrated that humanity had begun to irrevocably alter—and endanger—our environment on a global scale. Now he turns his eye to an array of technologies that could change our relationship not with the rest of nature but with ourselves. He explores the frontiers of genetic engineering, robotics, and nanotechnology—all of which we are approaching with astonishing speed—and shows that each threatens to take us past a point of no return. We now stand at a critical threshold, poised between the human past and a post-human future.

Ultimately, McKibben offers a celebration of what it means to be human, and a warning that we risk the loss of all meaning if we step across the threshold. His wise and eloquent book argues that we cannot forever grow in reach and power—that we must at last learn how to say, "Enough."
Praise For Enough: Staying Human in an Engineered Age…
"Bill McKibben has produced a book that is both a sequel and an equal to his brilliant The End of Nature. Enough is an ambitious and important book." —Los Angeles Times Book Review

"Without question, this is one of the most important books of the year. McKibben deserves to be read, to be discussed, to be heard." —San Diego Union-Tribune

"[A] brave and luminous book . . . Bill McKibben understands genetics—but he knows poetry, too." —David Gelernter, Wired

"Bill McKibben has done a top-notch job of researching and writing about one of the most important topics of the current age. Enough is an important book and needs to be read by everyone with an interest in keeping the human future human." —The Weekly Standard

"Fiercely important . . . the most thought-provoking piece of non-fiction I've read in a long time." —The Globe and Mail (Toronto)

"In this wise, well-researched, and important book, Bill McKibben addresses the burning philosophical question of the new century, and the one that counts for the long haul: how to control the technoscientific juggernaut before it dehumanizes our species." —E. O. Wilson, author of The Future of Life

"In Enough, McKibben shines his powerful light on another momentous change that is upon us: the ability to re-engineer ourselves and therefore the very meaning of human identity. If he is right, then humankind stands on a moral and existential threshold—or cliff. We would do well as a society to weigh his bracing argument before taking another step." —Michael Pollan, author of The Botany of Desire
Times Books, 9780805070965, 288pp.
Publication Date: April 1, 2003
About the Author
Bill McKibben writes regularly for "The New York Review of Books," "The New York Times," "Natural History," "The New Republic," and many other publications. His first book, "The End of Nature," was published in 1989 after being excerpted in "The New Yorker "and was a national bestseller. His other books include "The Age of Missing Information," "Maybe One," and "Long Distance: A Year of Living Strenuously." He lives with his wife, the writer Sue Halpern, and daughter in Vermont.
or
Not Currently Available for Direct Purchase