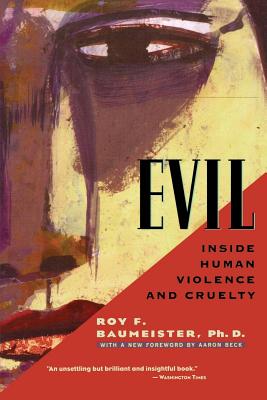 Evil (Paperback)
Inside Human Violence and Cruelty
Holt Paperbacks, 9780805071658, 448pp.
Publication Date: March 19, 1999
* Individual store prices may vary.
Description
Why is there evil, and what can scientific research tell us about the origins and persistence of evil behavior? Considering evil from the unusual perspective of the perpetrator, Baumeister asks, How do ordinary people find themselves beating their wives? Murdering rival gang members? Torturing political prisoners? Betraying their colleagues to the secret police? Why do cycles of revenge so often escalate?
Baumeister casts new light on these issues as he examines the gap between the victim's viewpoint and that of the perpetrator, and also the roots of evil behavior, from egotism and revenge to idealism and sadism. A fascinating study of one of humankind's oldest problems, Evil has profound implications for the way we conduct our lives and govern our society.
About the Author
Roy F. Baumeister, Ph.D., holds the E. B. Smith Professorship in Liberal Arts at Case Western Reserve University. Since receiving his doctorate in social psychology from Princeton University, he has received numerous fellowships and awards. He has published nearly 150 scientific works and is cited in numerous sources in the popular media. Baumeister has authored or co-authored nine other books, including Losing Control: How and Why Self-Regulation Fails and Meanings of Life. He lives on the shores of the Great Lakes.

Dr. Aaron T. Beck, M.D., the Father of Cognitive Therapy, is University Professor of Psychiatry at the University of Pennsylvania, and President of The Beck Institute for Cognitive Therapy. He is the author and co-author of twelve books and over 350 articles and chapters.