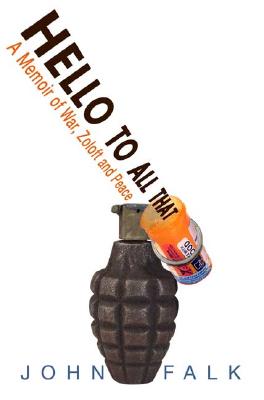 Hello to All That: A Memoir of War, Zoloft, and Peace (Hardcover)
A Memoir of War, Zoloft, and Peace
Henry Holt and Co., 9780805072181, 304pp.
Publication Date: December 9, 2004
* Individual store prices may vary.
or
Not Currently Available for Direct Purchase
Description
An off-the-wall, heartbreaking, and often hilarious memoir of a correspondent reporting from the front lines while also battling his lifelong nemesis-chronic depression

His own chemistry was his worst enemy, and it took John Falk to some very strange places-from Garden City, Long Island, to sniper-infested Sarajevo during the Bosnian bloodbath. But through it all, in the face of chronic depression, he kept reaching out for the life he'd always wanted. Hello to All That is his story-crazed, comic, poignant, suspenseful, hopeful.

Falk was an average Long Island kid, until depression left him ashamed and trapped behind an impenetrable chemical wall. Barely surviving on "chin-up" tips from his big, loyal, boisterous family, Falk tried to fight his disease-or hide it. But by twenty-four, he was alone, living on books by war correspondents, their adventures his only escape. Then he found a blue pill called Zoloft and set out on a mission to make his own name as a correspondent during one of the most dangerous conflicts in recent memory. Falk's journey has never been predictable, and neither is his moving, outrageous, and sometimes frightening memoir.

Here is the riveting tale of a man's lifelong battle-the struggle to defeat his greatest enemy and to connect, cure himself, and finally live.
About the Author
Among psychologists today, John Falk is known as patient X and the story of his recovery from chronic depression is used to inspire hope in other patients. He is also a law school graduate and freelance journalist who survived the rough and tumble of reporting from the front in Sarajevo. An article he wrote for "Details" magazine, entitled "Shot Through the Heart," became an HBO movie and won a Peabody Award for Best Cable Movie of the Year. He lives in Hillsdale, New York.
Praise For Hello to All That: A Memoir of War, Zoloft, and Peace…
"Hello To All That is a brilliant, moving, hillarious, and altogether completely original memoir that will undoubtably go down as an instant classic. John Falk has somehow written a book about war and the even more terrifying darkness within him that manages to be both poigant and irresistably funny."
-Sebastian Junger, author of The Perfect Storm
Advertisement