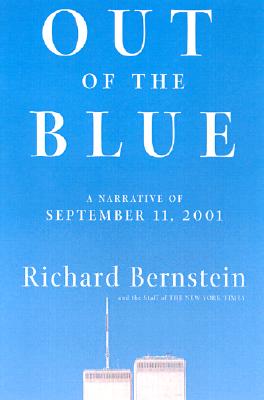 Out of the Blue (Hardcover)
A Narrative of September 11, 2001
Times Books, 9780805072402, 304pp.
Publication Date: September 1, 2002
Other Editions of This Title:
Paperback (8/1/2003)
* Individual store prices may vary.
Description
A gripping and authoritative account of the September 11th attack, its historical roots, and its aftermath

Few news stories in recent memory have commanded as much attention as the terrorist attacks on the World Trade Center and the Pentagon, but no news organization rivaled The New York Times for its comprehensive, resourceful, in-depth, and thoughtful coverage. This effort may well emerge as the finest hour in the paper's distinguished 150-year history.

In an unprecedented commitment, the Times assigned one of its most skilled reporters, Richard Bernstein, to turn the newspaper's brilliant and incisive reporting into a riveting narrative of September 11th. Following the lives of heroes, victims, and terrorists, Bernstein weaves a complex tale of a multitude of lives colliding in conflagration on that fateful morning. He takes us inside the Al Qaeda organization and the lives of the terrorists, from their indoctrination into radical Islam to the harrowing moments aboard the aircraft as they raced toward their terrible destiny. We meet cops and firefighters, and become intimate with some of the Trade Center workers who were lost on that day. We follow the lives of the rest of America-ordinary citizens and national leaders alike-in the hours and days after the attack.

Finally, Bernstein chronicles the nation's astonishing response in the aftermath.
No account of this singular moment in American history will be as sharp, readable, and authoritative as Out of the Blue.
About the Author
In twenty years with "The New York Times," Richard Bernstein has served as bureau chief at the United Nations and in Paris, as national cultural reporter, and currently as a daily book critic. Before that, he was the Beijing bureau chief for "Time "magazine. He has written five books, including T"he Coming Conflict with China "(with Ross H. Munro) and, most recently, "Ultimate Journey: Retracing the Path of an Ancient Buddhist Monk Who Crossed Asia in Search of Enlightenment." He lives in New York City.

Howell Raines is executive editor of "The New York Times."
or
Not Currently Available for Direct Purchase