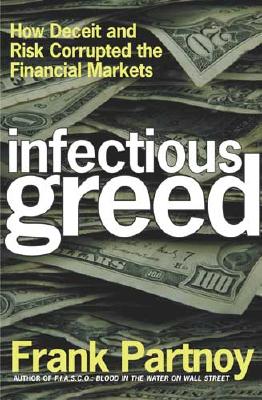 Infectious Greed
How Deceit and Risk Corrupted the Financial Markets
Hardcover

* Individual store prices may vary.
Other Editions of This Title:
Paperback (9/1/2009)
Description
From the bestselling author of F.I.A.S.C.O., a
riveting chronicle of the rise of dangerous
financial instruments and the growing crisis in American business
The still-unfolding financial story is terrifying. One by one, major corporations such as Enron, Global Crossing, and Worldcom are imploding all around us, prey to a greed-driven culture and dubious or illegal corporate finance and accounting. Our financial system has suddenly reached a perilous crossroads.
In a compelling and disturbing narrative, Frank Partnoy brings to bear all of his skills and experience as a securities attorney, financial analyst, law professor, and bestselling author to tell the story of the rise of the trading instruments and corporate financial structures that now imperil the economic health of the country. Starting in the mid-1980s with the introduction of the first proto-derivatives, and taking us through such high-profile disasters as Barings Bank and Long Term Capital Management, Partnoy traces a seamless progression to today's dangerous manipulations. He documents how each new level of financial risk and complexity obscured the sickness of the company in question, and required ever more ingenious deceptions. The story becomes more alarming with each passing day, but Partnoy offers a clear vision of how we can step back from the precipice.
Times Books, 9780805072679, 480pp.
Publication Date: April 1, 2003
About the Author
Frank Partnoy is currently a professor at the University of San Diego Law School. He has worked as an investment banker, derivatives broker, and corporate securities attorney. He also consults on regulation of the markets and white-collar crime. His expert testimony before the Senate committee investigating the Enron collapse has been widely cited in the media. Partnoy is the author of "F.I.A.S.C.O.: Blood in the Water on Wall Street." He lives in San Diego, California.
or
Not Currently Available for Direct Purchase