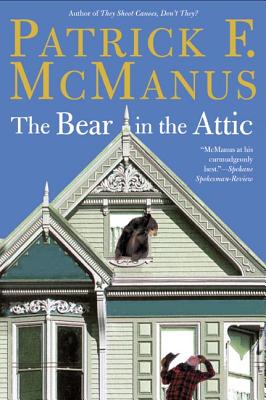 The Bear in the Attic (Paperback)
Holt McDougal, 9780805072952, 240pp.
Publication Date: June 1, 2003
Description
The beloved humorist and bestselling author returns with his most riotous collection of essays to date
Starting with his trademark outdoorsman's wit, Patrick F. McManus's newest collection ponders the strange allure of the RV, the existential implications of being lost, the baffling tendency of animals to outsmart those who wish to hunt them, and the singular pleasure of doubling the size of every fish one doesn't actually catch.
Combining the curmudgeonly voice of Dave Barry and the innocent tone of Garrison Keillor, McManus brilliantly captures the everyday absurdities that comprise our existence. Alongside his humor, McManus's inimitable vision consistently evokes a childlike wonder at the natural world. Even if we are running low on food, the compass is broken, and we are fairly certain we have just spotted a family of Sasquatches frolicking in the treetops, The Bear in the Attic makes the outdoors seem wildly irresistible.
About the Author
Patrick F. McManus has published novels, plays, and more than a dozen collections of his humor columns from Outdoor Life and other magazines. There are nearly two million copies of his book in print, including his bestselling The Shoot Canoes, Don't They?; The Night the Bear Ate Goombaw; and A Fine and Pleasant Misery. He divides his time between Spokane, Washington and Idaho.
Praise For The Bear in the Attic…
"Patrick McManus is a treasure." --The Atlantic Monthly

"Everybody should read Patrick McManus." --The New York Times Book Review

"A style that brings to mind Mark Twain, Art Buchwald, and Garrison Keillor." --People
Advertisement