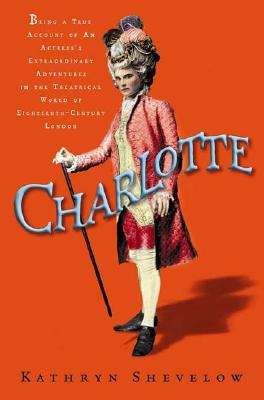 Charlotte: Being a True Account of an Actress's Flamboyant Adventures in Eighteenth-Century London's Wild and Wicked Theatrical (Hardcover)
Being a True Account of an Actress's Flamboyant Adventures in Eighteenth-Century London's Wild and Wicked Theatrical
Henry Holt and Co., 9780805073140, 448pp.
Publication Date: March 10, 2005
* Individual store prices may vary.
or
Not Currently Available for Direct Purchase
Description
The life of actress Charlotte Charke transports us through the splendors and scandals of eighteenth-century London and its wicked theatrical world

Her father, Colley Cibber, was one of the eighteenth century's great actor/playwrights-the toast of the British aristocracy, a favorite of the king. When his high-spirited, often rebellious daughter, Charlotte, revealed a fondness for things theatrical, it was thought that the young actress would follow in his footsteps at the legendary Drury Lane, creating a brilliant career on the London stage. But this was not to be. And it was not that Charlotte lacked talent-she was gifted, particularly at comedy. Troublesome, however, was her habit of dressing in men's clothes-a preference first revealed onstage but adopted elsewhere after her disastrous marriage to an actor, who became the last man she ever loved.

Kathryn Shevelow, an expert on the sophisticated world of eighteenth-century London (the setting for classics such as Tom Jones and Moll Flanders), re-creates Charlotte's downfall from the heights of London's theatrical world to its lascivious lows (the domain of fire-eaters, puppeteers, wastrels, gender-bending cross-dressers, wenches, and scandalous sorts of every variety) and her comeback as the author of one of the first autobiographies ever written by a woman. Beyond the appealingly unorthodox Charlotte, Shevelow masterfully recalls for us a historical era of extraordinary stylishness, artifice, character, interest, and intrigue.
About the Author
A specialist in eighteenth-century British literature and culture, Kathryn Shevelow has been an award-winning professor at the University of California in San Diego for twenty years and regularly taught classes in Restoration and eighteenth-century drama. She has published widely on eighteenth-century topics and is the author of "Woman and Print Culture: The Construction of Femininity in the Early Periodical." She lives in Solana Beach, California.
Praise For Charlotte: Being a True Account of an Actress's Flamboyant Adventures in Eighteenth-Century London's Wild and Wicked Theatrical …
"The intrigues and sub-plots and unforgettable characters in Charlotte seem to have erupted from a movie screen in full color. Kathryn Shevelow's command of her subject is evident in the irresistible abundance of detail that brings the underworld of 18th Century theatre vividly to life."
--Diane Middlebrook, author of Suits Me: the Double Life of Billy Tipton

"Precocious, gifted, charismatic, and eccentric, Charlotte Charke illuminated the Eighteenth Century with the fleeting brightness of a shooting star. An actress both on stage and off, she lived her life as though it were a comic tragedy fit only for villains and heroes. Kathryn Shevelow has written a remarkable book which admirably captures this most elusive of social rebels."
--Amanda Foreman, author of Georgiana: Duchess of Devonshire

"Charlotte is a remarkably learned and even more remarkably entertaining history-not only of a truly fascinating and startlingly-original woman, but also of her times and culture. Kathryn Shevelow brings to life the madness, absurdity and baseness of 18th-century Britain, and recreates for modern readers the fascinating peculiarities of its theater world. This is a brilliant piece of popular history."
--David Liss, author of A Conspiracy of Paper and The Coffee-Trader

"A fascinating account of this eccentric dynamo's adventures in eighteenth-century trade, theatre and love, Shevelow's book should win Charlotte Cibber Charke the multitudes of admirers she deserves."
--Emma Donoghue, author of Slammerkin and Life Mask
Advertisement