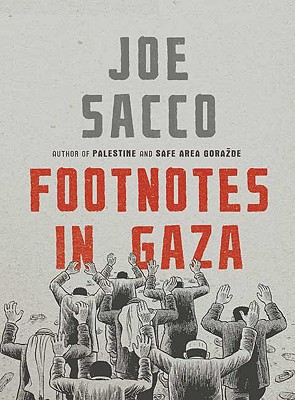 Footnotes in Gaza: A Graphic Novel (Hardcover)
A Graphic Novel
Metropolitan Books, 9780805073478, 432pp.
Publication Date: December 22, 2009
* Individual store prices may vary.
or
Not Currently Available for Direct Purchase
Description
From the great cartoonist-reporter, a sweeping, original investigation of a forgotten crime in the most vexed of places
Rafah, a town at the bottommost tip of the Gaza Strip, is a squalid place. Raw concrete buildings front trash-strewn alleys. The narrow streets are crowded with young children and unemployed men. On the border with Egypt, swaths of Rafah have been bulldozed to rubble. Rafah is today and has always been a notorious flashpoint in this bitterest of conflicts.
Buried deep in the archives is one bloody incident, in 1956, that left 111 Palestinians dead, shot by Israeli soldiers. Seemingly a footnote to a long history of killing, that day in Rafah—cold-blooded massacre or dreadful mistake—reveals the competing truths that have come to define an intractable war. In a quest to get to the heart of what happened, Joe Sacco immerses himself in daily life of Rafah and the neighboring town of Khan Younis, uncovering Gaza past and present. Spanning fifty years, moving fluidly between one war and the next, alive with the voices of fugitives and schoolchildren, widows and sheikhs, Footnotes in Gaza captures the essence of a tragedy.
As in Palestine and Safe Area Goražde, Sacco's unique visual journalism has rendered a contested landscape in brilliant, meticulous detail. Footnotes in Gaza, his most ambitious work to date, transforms a critical conflict of our age into an intimate and immediate experience.

About the Author
Joe Sacco, one of the world's foremost cartoonists, is widely hailed as the creator of war-reportage comics. He is the author of, among other books, "Palestine," which received the American Book Award, and "Safe Area Goražde," which won the Eisner Award and was named a "New York Times" Notable Book and "Time" magazine's best comic book of 2000. His books have been translated into fourteen languages and his comics reporting has appeared in "Details," "The New York Times Magazine," "Time," and "Harper's." He lives in Portland, Oregon.
Praise For Footnotes in Gaza: A Graphic Novel…
"Solid, old-fashioned war reporting... a superb way into the truth of events, understanding different sides and poking around in people's minds and houses. Unlike a war photographer, Sacco always gets the best shot, perfectly framed, sometimes years after the event. Unlike a writer, he adds facial expressions to each statement. And unlike a film maker, he can slip between past and present without the jolt of costumed docudrama.... I learned more about the Palestinians, war, the intifada and the best honey pastries in Gaza than I ever had from newspapers or television."
—The Times (UK) "Having already established his reputation as the world's leading comics journalist, Sacco is now making a serious case to be considered one of the world's top journalists, period. His newest undertaking is a bracing quest to uncover the truth about what happened in two Gaza Strip towns in 1956… Sacco's art is alternately epic and intimate, but it's his exacting and harrowing interviews that make this book an invaluable and wrenching piece of journalism."
—Publishers Weekly (starred review) "The first good news to report about the massive, fascinating new Footnotes in Gaza hardcover is that the cartoonist is in top form throughout. If there's something that Joe Sacco's done in a previous comic that you've liked or with which you've been impressed, then that same technique or approach is likely to be on display here in a comparable or more effective way… A story soaked to the marrow with heartbreaking insights… One of the best long-form comics of this decade, and Sacco's greatest work to date."
—The Comics Reporter "Joe Sacco's brilliant, excruciating books of war reportage are potent territory.... He shows how much that is crucial to our lives a book can hold."
—The New York Times Book Review
Advertisement