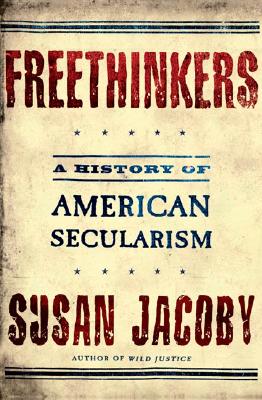 Freethinkers
A History of American Secularism
Hardcover

* Individual store prices may vary.
Other Editions of This Title:
Paperback (1/7/2005)
Description
An authoritative history of the vital role of secularist thinkers and activists in the United States, from a writer of "fierce intelligence and nimble, unfettered imagination" (The New York Times)

At a time when the separation of church and state is under attack as never before, Freethinkers offers a powerful defense of the secularist heritage that gave Americans the first government in the world founded not on the authority of religion but on the bedrock of human reason.

In impassioned, elegant prose, celebrated author Susan Jacoby paints a striking portrait of more than two hundred years of secularist activism, beginning with the fierce debate over the omission of God from the Constitution. Moving from nineteenth-century abolitionism and suffragism through the twentieth century's civil liberties, civil rights, and feminist movements, Freethinkers illuminates the neglected accomplishments of secularists who, allied with liberal and tolerant religious believers, have stood at the forefront of the battle for reforms opposed by reactionary forces in the past and today.

Rich with such iconic figures as Thomas Jefferson, Abraham Lincoln, Elizabeth Cady Stanton, and Clarence Darrow—as well as once-famous secularists such as Robert Green Ingersoll, "the Great Agnostic"—Freethinkers restores to history generations of dedicated humanists. It is they, Jacoby shows, who have led the struggle to uphold the combination of secular government and religious liberty that is the glory of the American system.
Praise For Freethinkers: A History of American Secularism…
"Freethinkers is not only a good book, it is a necessary one. Ranging from the freethinking Revolution to the pious administration of George W. Bush, this dramatic study offers a welcome reminder that the Founding Fathers were intent on keeping church and state firmly separated. Lively, impassioned, and impartial, Susan Jacoby's argument deserves more than respect; it deserves support." —Peter Gay, Sterling Professor of History Emeritus, Yale University
"This book is fresh air for those who defend the separation of church and state. Here, clearly written and without apologetics, is the noble record of the struggle to retain America's precious freedom of conscience, her pride for two centuries, now under threat from the political Right as never before." —Arthur Miller
Metropolitan Books, 9780805074420, 432pp.
Publication Date: April 1, 2004
About the Author
Susan Jacoby is the author of five books, including "Wild Justice," a Pulitzer Prize finalist. A contributor to "The Washington Post," T"he New York Times," "Newsday," and "Vogue," she lives in New York City.
or
Not Currently Available for Direct Purchase