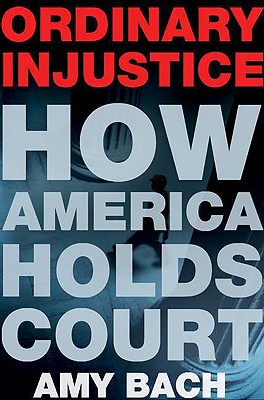 Ordinary Injustice: How America Holds Court (Hardcover)
How America Holds Court
Metropolitan Books, 9780805074475, 320pp.
Publication Date: September 1, 2009
* Individual store prices may vary.
or
Not Currently Available for Direct Purchase
Description
From an award-winning lawyer-reporter, a radically new explanation for America's failing justice system
The stories of grave injustice are all too familiar: the lawyer who sleeps through a trial, the false confessions, the convictions of the innocent. Less visible is the chronic injustice meted out daily by a profoundly defective system.
In a sweeping investigation that moves from small-town Georgia to upstate New York, from Chicago to Mississippi, Amy Bach reveals a judicial process so deeply compromised that it constitutes a menace to the people it is designed to serve. Here is the public defender who pleads most of his clients guilty; the judge who sets outrageous bail for negligible crimes; the prosecutor who brings almost no cases to trial; the court that works together to achieve a wrong verdict. Going beyond the usual explanations of bad apples and meager funding, Bach identifies an assembly-line approach that rewards shoddiness and sacrifices defendants to keep the court calendar moving, and she exposes the collusion between judge, prosecutor, and defense that puts the interests of the system above the obligation to the people. It is time, Bach argues, to institute a new method of checks and balances that will make injustice visible—the first and necessary step to any reform.
Full of gripping human stories, sharp analyses, and a crusader's sense of urgency, Ordinary Injustice is a major reassessment of the health of the nation's courtrooms.
About the Author
Amy Bach, a member of the New York bar, has written on law for "The Nation," "The American Lawyer," and "New York" magazine, among other publications. For her work in progress on "Ordinary Injustice," Bach received a Soros Media Fellowship, a special J. Anthony Lukas citation, and a Radcliffe Fellowship. She lives in Rochester, New York, where she taught legal studies at the University of Rochester. This is her first book.
Praise For Ordinary Injustice: How America Holds Court…
"More than anything else I have read, Ordinary Injustice tells us what actually happens in the prosecutorial world. That reality is painfully different from the romantic picture of constitutional rights triumphant that I helped to paint in Gideon's Trumpet. It is a fascinating and essential book."
—Anthony Lewis, author of Freedom of the Thought That We Hate: A Biography of the First Amendment "Ordinary Injustice takes the reader to unexamined fiefdoms across the country and brings them deep into the heart of the way justice truly happens on a day-to-day level. It shows how dangerous it is when any one of the clearly defined roles in the system malfunctions. No one concerned with the state of this country's democracy can afford to ignore this necessary book."
—Barry Scheck, co-founder and co-director of The Innocence Project, Benjamin N. Cardozo School of Law "Amy Bach sets out to uncover and, more important, explain widespread failures of the legal process. That she achieves this is reason enough to read and respect Ordinary Injustice. But she does it in a way that turns a necessary study into a hard-to-put down narrative that sometimes reads like a screenplay. Best of all, Bach exudes understanding, even empathy, for those bad actors whom she rightly concludes shouldn't be blamed alone—because, as she writes, 'pinning the problem on any one bad apple fails to indict the tree from which it fell.'"
—Steven Brill, founder of Court TV and The American Lawyer "This is a magnificent work, a crusading call for reform in the tradition of Rachel Carson's Silent Spring or Ralph Nader's Unsafe at Any Speed. With her remarkable skills as a reporter and her masterful storytelling ability, Amy Bach provides a fascinating range of individual stories to reveal the systemic, everyday problems in our courts that must be addressed if justice is truly to be served. This groundbreaking book deserves widespread attention."
—Doris Kearns Goodwin, author of Team of Rivals "This is a very important book for any one seriously concerned about the continuing struggle for civil rights in this nation. Amy Bach takes us into courtrooms, judges' chambers, and prosecutors' offices and reveals what years of bias, neglect, and indifference have left: a system where the accused, victims, and their families get little or no individual attention, are often bewildered by the process and, at the end of the day are left without justice. As I read through these revealing and shocking pages, I was saddened, angered and outraged. I hope outrage will push citizens everywhere to demand fulfillment of the birthright of every American: equal justice under the law." —Reverend Joseph E. Lowery, Co-Founder and President Emeritus of the Southern Christian Leadership Conference "Every judge, prosecutor, and defense lawyer should read Ordinary Injustice. I hope it will compel us to reevaluate the injustice that occurs with impunity and regularity in our criminal justice system and I recommend it with great enthusiasm to anyone concerned about inequality and the law."
—Charles J. Ogletree Jr., Jesse Climenko Professor of Law, Harvard Law School, and Founding and Executive Director of the Charles Hamilton Houston Institute for Race and Justice "Moving, illuminating, damning. Bach gets beyond the usual suspects, exposing a corrosive culture. It is a tribute to its honesty that Ordinary Injustice will make readers squirm."
—Steve Bogira, author of Courtroom 302: A Year Behind the Scenes in an American Criminal Courthouse "Here is an extraordinary survey of the American criminal justice system that shows how it has become less reliable, less rational, and less just. This is a must-read for anyone interested in how our system functions, and fails, in too many communities."
—Bryan Stevenson, Director, Equal Justice Initiative, New York University School of Law
Advertisement