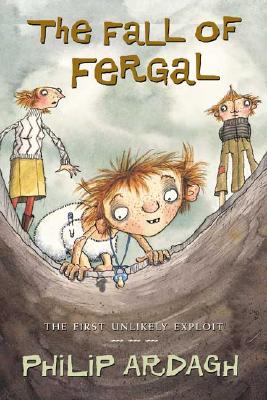 The Fall of Fergal: The First Unlikely Exploit (Hardcover)
The First Unlikely Exploit
Henry Holt and Co. (BYR), 9780805074765, 144pp.
Publication Date: May 1, 2004
* Individual store prices may vary.
or
Not Currently Available for Direct Purchase
Description
The very last words young Fergal McNally heard in his life were: "Don't lean out of that window!" The very last sounds were probably the air whistling past his sticky-out ears as he fell the fourteen stories, the honk of traffic horns below (getting nearer and nearer, of course), and-possibly-the "SP" of the "SPLAT!" he himself made as he hit the pavement. Fergal certainly wouldn't have heard more than the "SP," though, because by the time the "LAT!" part had followed, he would have been well and truly dead.

The first in a darkly hilarious new series from the bestselling author of the Eddie Dickens Trilogy

Philip Ardagh's Unlikely Exploits series chart the extraordinary changes in fortune of the downtrodden McNally family, beginning with The Fall of Fergal. The setting is an unidentified country suffering from an unexpected breakout of large holes.

The McNally children find themselves in the Dell Hotel, the venue for the final of the Tap 'n' Type typing competition, surrounded by a strange assortment of characters ranging from Twinkle-Toes Tweedy, the house detective, to Mr. Peach, a ventriloquist with a very large mustache.

With young Fergal McNally falling to his death on page one, the only way for the McNallys is up . . .
About the Author
Over six and a half feet tall, with a bushy beard, there's no doubt that Philip Ardagh is not only very big but also very hairy. He writes fiction and nonfiction for all ages, and his Eddie Dickens Trilogy books are bestsellers. When not writing silly books, Mr. Ardagh is very serious indeed and frowns a great deal. He lives with a wife and son and a cat in a seaside town somewhere in England.

David Roberts has illustrated several books for children, including The Eddie Dickens Trilogy, and lives in England.
Praise For The Fall of Fergal: The First Unlikely Exploit…
"[S]hort, fun, fast and easy to read. Ardagh talks to his readers a lot, which is okay, because he's a scream." --Time Out New York Kids

"The famously large and hairy author of the 'Eddie Dickens' trilogy opens a new trio of Unfortunate Events--er 'Unlikely Exploits', with the fatal plummet of young Fergal McNally from a 14th floor window. What follows, with a great deal of backtracking, scene-jumping, and silly authorial interjections, introduces the rest of the beleaguered McNally clan, from kindhearted Le Fay, surprise finalist in a nationwide typing contest, and her four siblings, to embittered, alcoholic ex-war hero--and, thanks to a doctor's dispensation, ex-parent--Rufus. Depicting these, along with a supporting cast that includes the likes of porky, arrogant contestant Graham Large and decidedly peculiar ventriloquist Hieronymus Peach, with pop-eyed panache in a profusion of comical sketches, Ardagh carries his tale through triumphs and tragedy, ending on a down note--through there are signs that Fergal (or, at least some significant parts of him) will be back in subsequent episodes. Dahl and Snicket fans will find themselves on familiar ground." --Kirkus Reviews

"The tragic event around which the novel revolves provides plenty of black comedy to keep readers entertained." --Publishers Weekly

"Downright cheeky! . . . .The Fall of Fergal is a funny, well-written entry into what promises to be a great series for kids." --BookPage
Advertisement