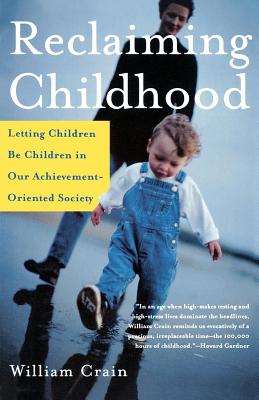 Reclaiming Childhood (Paperback)
Letting Children Be Children in Our Achievement-Oriented Society
Holt Paperbacks, 9780805075137, 288pp.
Publication Date: February 1, 2004
* Individual store prices may vary.
Description
"A thoughtful and valuable resource for parents and teachers looking for alternative approaches to education." —Booklist
As our children are pushed harder than ever to perform so that they will one day "make the grade" in the adult world, parents are beginning to question the wisdom of scheduling childhood's basic pleasures. In Reclaiming Childhood, William Crain argues that rather than trying to control a young child, the best a parent can offer is "a patient and unobtrusive presence that gives the child the security and the freedom to explore the world on her own." He examines how children find their way to natural development through experiences with nature, art, and language, and makes a strong case for child-centered education—a movement that may be under fire, but that is very much alive.
About the Author
William Crain, Ph.D., is a developmental psychologist, author, and social activist. A professor of psychology at the City College of New York, he is the author of a major textbook in the field. His 1997 article in Montessori Life magazine, "How Nature Helps Children Develop," was a finalist for the 1998 EdPress Award for excellence in educational journalism. He lives in New York City.
Praise For Reclaiming Childhood: Letting Children Be Children in Our Achievement-Oriented Society…
"In an age when high-stakes testing and high-stress lives dominate the headlines, William Crain reminds us evocatively of a precious, irreplaceable time--the 100,000 hours of childhood." —Howard Gardner
"A vitally important book. Reclaiming Childhood asks us to stop and consider how the obession with standards and testing in school actually harms children at the most fundamental level." —Peter Sacks, author of Standardized Minds