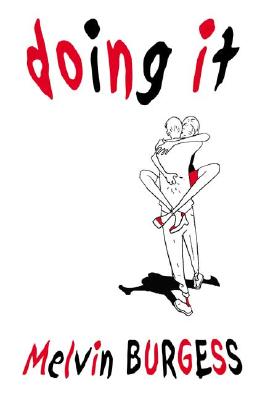 Doing It (Hardcover)
Henry Holt & Company, 9780805075656, 326pp.
Publication Date: May 1, 2004
Other Editions of This Title:
Paperback (1/3/2012)
Paperback (8/7/2014)
* Individual store prices may vary.
Description
"I mean-I like girls. I get on well with them. And I like sex. Not that I've had all that much experience of it-not with another person being in the room at the same time, anyway. I just can't somehow put the two together. I can be getting on really well with a girl but as soon as I get an inkling that there might be a chance of anything happening, I just freeze up. It's scary."
Everything you never wanted to know about sex and boys-but probably should
Dino, Jonathan, and Ben have got some problems, mostly with Jackie, Deborah, and Alison.
Dino's girlfriend Jackie, the most beautiful girl in school, drives him mad with lust, but won't go all the way and relieve Dino of his desperately unwanted virginity.
Jonathan likes Deborah. She's smart and funny and she makes him feel very sexy, but she's kind of plump and his mates won't let him hear the end of it.
Ben's been seduced by Alison, the pretty young drama teacher at school. And what seems like a dream come true is actually making him miserable.
Award-winning author Melvin Burgess has written a daringly honest and often hilarious account of contemporary teenage life, and the ups and downs that surround "doing it.
About the Author
Melvin Burgess is the author of many novels for young adult and middle-grade readers. Among them are "Nicholas Dane," "The Ghost Behind the Wall" (Bank Street Best Children's Book of the Year) and "Smack "(winner of Britain's Carnegie Medal and the Guardian Prize for Fiction, as well as an ALA Best Book for Young Adults). In 2001, he wrote the novelization of the film, "Billy Elliot." Mr. Burgess lives in Hebden Bridge, West Yorkshire, in England.
Praise For Doing It…
DOING IT has been picked up by ABC TV for its Fall 2004 lineup.
"The network has two coming-of-age dramas. One, called 'Doing It,' chronicles the experiences of three teenage boys in Seattle and their preoccupation with sex." --New York Times


A Publishers Weekly "Editors' Pick for May

"Far and away, Doing It. . . is the funniest young adult book I've read in a long time. Fresh, honest, and totally hilarious." --Alloy.com

"Ribald"--Time Out New York

"AMAZING! Without gimmicks, Melvin Burgess presents the varying first time experiences of a group of nice, normal kids with honesty, warmth and humor. Any controversy about this book is hard to comprehend as it's so tender and sweet, yet deceptively complex and layered – just exquisite craftsmanship." ---Rachel Cohn, author of Gingerbread and Pop Princess

"In this novel, Dino, Ben and Jon are 17-year-old best friends who are so focused on losing their virginity that they can barely handle anything else in their life. With their raging hormones guiding most of their decisions, the boys end up in some hilariously embarrassing situations. But what's invaluable is the sneak peek we get into how guys' self-obsessed minds work. (And thankfully—beneath the smut—they actually do have feelings." --Seventeen

"According to Brit novelist Melvin Burgess, teenage sex is like pre-school calculus: confusing, awkward, and full of funny shapes. In Doing It--a muy controversial book in the U.K.--Burgess tells the saucy story of a group of teens and their sexual
f1escapades. The book's explicitness shocks, though the touchiest bits are obscured by Britishisms (knobs, snogs, gobs). As a card-carrying boy, I appreciate the male P.O.V. of this novel, so kudos to Burgess for exploring a sensitive subject in an honest way." --Elle Girl

"An exuberant novel, by a popular and sometimes controversial British writer, about three British lads -Dino, Jonathan and Ben-and sex. Filled with decipherable slang." --
New York Times Book Review

"Although this offering is being piously marketed as 'Ages 16 and up', if kids can get their hands on it, it will do for this generation what Forever did for kids some 30 years ago. . . . The third-person limited perspective develops voice by shifting from boy to boy, going into graphic, slang-filled detail about the various bodily functions involved. In between these moments (and there are too many to effectively dog-ear only the good bits), the narrative frequently achieves moments of fine writing, character development, etc. but that's hardly the point, is it? The point is that this, like sex, is all about good dirty fun." --Kirkus Reviews

" "Fun, peppy and unusually frank. . . . The abundant use of British slang--especially for matters sexual--gives the story an exotic charm and defuses the explicit nature of the material. Fans of Louise Rennison's Angus, Thongs books will appreciate the male perspective offered here, while readers of both sexes whose hormones have just begun to simmer will welcome a book that so accurately mirrors their new world view." --Publishers Weekly, starred review

"The antics of these horndogs keep you turning the pages. . . . It's not always pretty, but hey-isn't that reality?" --Romantic Times

"Parts of the book are laugh-out-loud funny, and others are a painful yet emphatic reminder of teenage life. Burgess likes his characters, and with this book, it becomes clear that he is also a friend to women, who are alternately appreciated for their good sense, for their bodies, and for simply existing. The boys learn about good relationships both among themselves and with the girls, work through their problems, and accomplish it all without becoming predictable in this new young adult masterpiece." --VOYA

"Burgess's novel, which retains its original British terminology and sexual slang, is crude, irreverent, and explicit, yet honest and frequently funny. . . .Readers may be drawn in by the intense sexual tone, and find a well-developed story that will spark reflection on the meaning and strength of peer and romantic relationships." --School Library Journal

"relentlessly and refreshingly honest" --Booklist
or
Not Currently Available for Direct Purchase