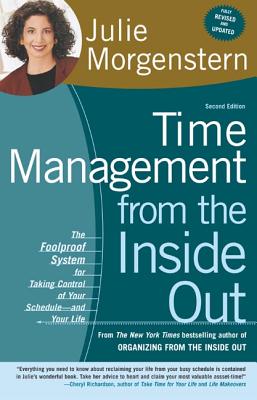 Time Management from the Inside Out
The Foolproof System for Taking Control of Your Schedule--and Your Life
Paperback

* Individual store prices may vary.
Description
A thoroughly updated and expanded edition of the definitive guide to managing and freeing up time

Applying the groundbreaking from-the-inside-out approach that made Organizing from the Inside Out a New York Times bestseller, Julie Morgenstern set a new standard for the time- management category. Her system has helped countless readers uncover their psychological stumbling blocks and strengths, and develop a time-management system that suits their individual needs.

By applying her proven three-step program-Analyze, Strategize, Attack-and following her effective guidelines, readers will find more time for work, family, self-improvement, or whatever is most important to them. Time management is a learnable skill, and in this completely revised edition, Morgenstern provides the ultimate tools to combine, delegate, and eliminate unnecessary tasks; put technology to work; and stop procrastinating once and for all.

This revised edition of Time Management from the Inside Out delivers
- a new chapter about the WADE formula for getting started
- new time maps for people with irregular schedules
- new four-, eight-, and twelve-week program guides for improving time-management skills
- a fully updated resource guide
Praise For Time Management from the Inside Out: The Foolproof System for Taking Control of Your Schedule--and Your Life…
"Everything you need to know about reclaiming your life from your busy schedule is contained in Julie's wonderful new book." —Cheryl Richardson, author of Take Time for Your Life

"Time Management from the Inside Out is an outstanding resource in the process of being ready to live at a higher level. It won't just help you manage your time, it will help you manage your life. A valuable read!" —Ken Blanchard, co-author of The One-Minute Manager and Leadership by the Book

"If I had had Julie Morgenstern's tips on how to organize my workload and prioritize my days, balancing my growing business and family life would have been much easier." —Lilian Vernon, Chairman and CEO, Lilian Vernon Corporation
Holt Paperbacks, 9780805075908, 304pp.
Publication Date: September 1, 2004
About the Author
Julie Morgenstern is the author of the New York Times bestsellers Organizing from the Inside Out and Time Management from the Inside Out, both of which have been developed into popular specials for PBS. She is an internationally renowned organization consultant and has shared her expertise on The Oprah Winfrey Show, The Rachael Ray Show, The Today Show, and more, and is quoted or featured regularly in, among other outlets, The New York Times, Time, and USA Today.