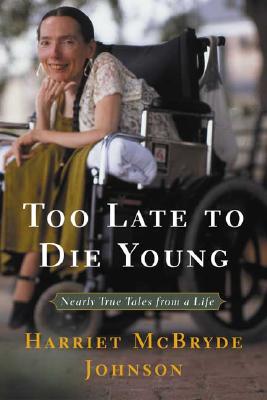 Too Late to Die Young: Nearly True Tales from a Life (Hardcover)
Nearly True Tales from a Life
Henry Holt and Co., 9780805075946, 272pp.
Publication Date: March 10, 2005
* Individual store prices may vary.
or
Not Currently Available for Direct Purchase
Description
With a voice as disarmingly bold, funny, and unsentimental as its author, a thoroughly unconventional memoir that shatters the myth of the tragic disabled life

Harriet McBryde Johnson isn't sure, but she thinks one of her earliest memories was learning that she will die. The message came from a maudlin TV commercial for the Muscular Dystrophy Association that featured a boy who looked a lot like her. Then as now, Johnson tended to draw her own conclusions. In secret, she carried the knowledge of her mortality with her and tried to sort out what it meant. By the time she realized she wasn't a dying child, she was living a grown-up life, intensely engaged with people, politics, work, struggle, and community.

Due to a congenital neuromuscular disease, Johnson has never been able to walk, dress, or bathe without assistance. With help, however, she manages to take on the world. From the streets of Havana, where she covers an international disability rights conference, to the floor of the Democratic National Convention in Chicago, to an auditorium at Princeton, where she defends her right to live against philosopher Peter Singer, she lives a life on her own terms. And along the way, she defies and debunks every popular assumption about disability.

This unconventional memoir opens with a lyrical meditation on death and ends with a surprising sermon on pleasure. In between, we get the tales Johnson most enjoys telling from her own life. This is not a book "about disability" but it will surprise anyone who has ever imagined that life with a severe disability is inherently worse than another kind of life.
About the Author
Harriet McBryde Johnson has been a lawyer in Charleston, South Carolina, since 1985. Her solo practice emphasizes benefits and civil rights claims for poor and working people with disabilities. For more than twenty-five years, she has been active in the struggle for social justice, especially disability rights. She holds the world endurance record (thirteen years without interruption) for protesting the Jerry Lewis telethon for the Muscular Dystrophy Association. She served the City of Charleston Democratic Party for eleven years, first as secretary, then as chair. She is a regular contributor to "The New York Times Magazine "and to the disability press and lives in Charleston, South Carolina.
Praise For Too Late to Die Young: Nearly True Tales from a Life…
"Too Late To Die Young is a wonderful mix: a keen mind, exuberance, activist politics, along with a special brand of Southern women's wit."-Adrienne Rich
Advertisement