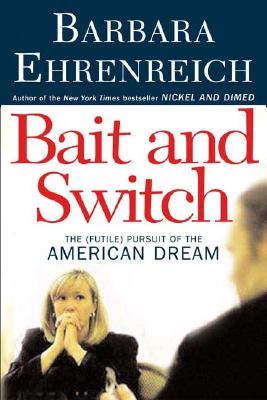 Bait and Switch (Hardcover)
The (Futile) Pursuit of the American Dream
Metropolitan Books, 9780805076066, 256pp.
Publication Date: September 8, 2005
Other Editions of This Title:
Digital Audiobook (9/6/2005)
Paperback (7/25/2006)
Compact Disc (8/11/2005)
Audio Cassette (8/11/2005)
* Individual store prices may vary.
Description
The bestselling author of Nickel and Dimed goes back undercover to do for America's ailing middle class what she did for the working poor
Barbara Ehrenreich's Nickel and Dimed explored the lives of low-wage workers. Now, in Bait and Switch, she enters another hidden realm of the economy: the shadowy world of the white-collar unemployed. Armed with a plausible resume of a professional "in transition," she attempts to land a middle-class job--undergoing career coaching and personality testing, then trawling a series of EST-like boot camps, job fairs, networking events, and evangelical job-search ministries. She gets an image makeover, works to project a winning attitude, yet is proselytized, scammed, lectured, and--again and again--rejected.
Bait and Switch highlights the people who've done everything right--gotten college degrees, developed marketable skills, and built up impressive resumes--yet have become repeatedly vulnerable to financial disaster, and not simply due to the vagaries of the business cycle. Today's ultra-lean corporations take pride in shedding their "surplus" employees--plunging them, for months or years at a stretch, into the twilight zone of white-collar unemployment, where job searching becomes a full-time job in itself. As Ehrenreich discovers, there are few social supports for these newly disposable workers--and little security even for those who have jobs.
Like the now classic Nickel and Dimed, Bait and Switch is alternately hilarious and tragic, a searing expose of economic cruelty where we least expect it.
About the Author
Barbara Ehrenreich is the author of thirteen books, including the New York Times bestseller Nickel and Dimed (0-8050-6389-7). A frequent contributor to Harper's and The Nation, she has been a columnist at The New York Times and

Time magazine. She lives in Virginia.
Praise For Bait and Switch: The (Futile) Pursuit of the American Dream…
Praise for Nickel and Dimed:
"We have Barbara Ehrenreich to thank for bringing us the news of America's working poor so clearly and directly, and
conveying with it a deep moral outrage . . . She is our premier reporter of the underside of capitalism."
—The New York Times Book Review


"Jarring, full of riveting grit . . . This book is already
unforgettable." —Newsweek

"Courageous . . . a superb and frightening look into the lives of hard-working Americans."
—San Francisco Chronicle
Discuss your own career path. How has corporate downsizing, reorgan­izing or outsourcing affected your life?
Ehrenreich recalls her father's experience climbing the corporate ladder in the 50s and 60s. He was loyal to his company, and it in turn was loyal to him. Would this be a reasonable expectation today? How have cor­porations changed in the way they treat their employees over the last generation?
Throughout her job search, Ehrenreich is struck by the constant advice to adopt a "positive attitude" no matter what you're going through as an unemployed person. Do you think this is a good psychological strat­egy? Or do we pay a price for constantly concealing anger and sadness under a happy face?
In chapter three, "Surviving Boot Camp," Ehrenreich's coach insists that we only have ourselves to blame for whatever happens to us in life. How widespread do you think this idea is in our culture? Would you call it "victim blaming" or a correct assessment of one's personal responsibility? What do you think is the effect of this idea on people struggling with unemployment?
Chapter five, "Networking with the Lord," describes the evangelical Christian groups Ehrenreich stumbled onto in her quest for employ­ment. Was she right to be critical of their proselytizing? What role, if any, should religion play in a secular workplace?
Discuss the gender and racial dimensions of job searching. Do you think Ehrenreich's experience would have been different if she had been male, or a person of color?
Discuss the book's title. What are college-educated young Americans being lured into? If a college education—even in a business major—no longer offers occupational security, how should young people think about their careers?
What were your thoughts as you finished reading Bait and Switch? Is there any action you can take to reverse the trend toward greater job insecurity? Do you predict that legislation will ever be passed limiting a corporation's ability to lay people off at will or outsource jobs overseas? Can the compendation gap between CEOs and other employees keep expanding indefinitely?
or
Not Currently Available for Direct Purchase