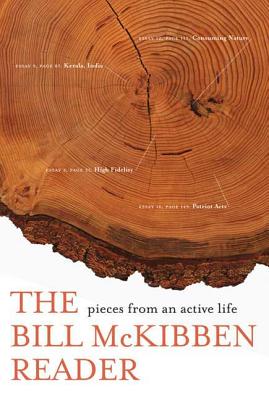 The Bill McKibben Reader: Pieces from an Active Life (Paperback)
Pieces from an Active Life
Henry Holt & Company, 9780805076271, 442pp.
Publication Date: March 4, 2008
Description
Powerful, impassioned essays on living and being in the world, from the bestselling author of "The End of Nature "and "Deep Economy"
For a generation, Bill McKibben has been among America's most impassioned and beloved writers on our relationship to our world and our environment. His groundbreaking book on climate change, "The End of Nature," is considered "as important as Rachel Carson's classic "Silent Spring""* and "Deep Economy, "his "deeply thoughtful and mind-expanding"** exploration of globalization, helped awaken and fuel a movement to restore local economies.
Now, for the first time, the best of McKibben's essays fiery, magical, and infused with his uniquely soulful investigations of modern life are collected in a single volume. Whether meditating on today's golden age in radio, the natural place of biting black flies in our lives, or the patriotism of a grandmother fighting to get corporate money out of politics, McKibben inspires us to become better caretakers of the Earth and of one another.
*"The Plain Dealer "(Cleveland )
**Michael Pollan.
About the Author
Bill McKibben is the author of a dozen books, including The End of Nature, Enough: Staying Human in an Engineered Age, and Deep Economy. A former staff writer for The New Yorker, he writes regularly for Harper's, The Atlantic Monthly, and The New York Review of Books, among other publications. He is a scholar in residence at Middlebury College and lives in Vermont with his wife, the writer Sue Halpern, and their daughter.
Praise For The Bill McKibben Reader: Pieces from an Active Life…
"McKibben has just edited The Bill McKibben Reader, an anthology of forty-four essays on topics as diverse as being arrested at a demonstration, spending time with writer Wendell Berry and putting his Christian faith into action."—Susan Larson, The Times Picayune (New Orleans)

"Those who think in shades of green shouldn't miss The Bill McKibben Reader: Pieces from an Active Life, a compilation of 44 previously published works from the author of The End of Nature. The essays, collected over two and a half decades, contain surprising turns of logic—in one McKibben argues for the reintroduction of wolves to the Adirondacks while comparing the embattled animals to SUV's—as well as humor and a refreshing pragmatism."—Adirondack Life

"Collected here are 44 trenchant essays written for various publications over the past 25 years by an astute observer of contemporary life and the environment. . . . All have something to say that is worth hearing, but it is the collection's pervasive sense of hope for the world that sets apart these provocative, beautifully written essays."—Publishers Weekly (starred review)

"A welcome anthology whose constituent pieces, all well written, retain every bit of their urgency."—Kirkus Reviews
Advertisement