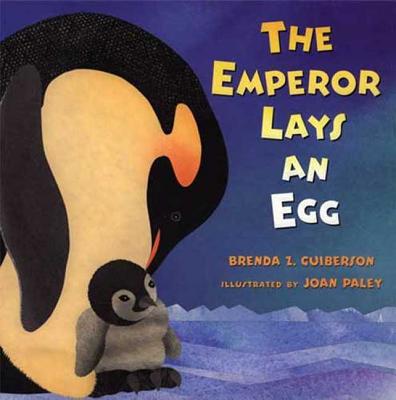 The Emperor Lays an Egg
Paperback

* Individual store prices may vary.
Other Editions of This Title:
Prebound (9/1/2004)
Description
All the other wild creatures have left the Antarctic. The wind is too cold and the sun does not shine during the long, dark months of winter. But the father emperor stays behind with thousands of other fathers. Each of them takes care of an egg . . .
Follow as a penguin grows from egg to adulthood
in the coldest place on earth
In the middle of winter, in the coldest place on earth, the mother emperor penguin lays her egg. The father rolls the egg onto his feet and keeps it warm. He doesn't eat or even move for two whole months. Finally the egg hatches.
Stunning collages of hand-painted paper and clear, evocative text capture the beauty and drama of the icy Antarctic world and one of its most fascinating and endearing inhabitants.
Praise For The Emperor Lays an Egg…
"Guiberson's vivid prose fleshes out the bare bones of the penguin's life cycle.... Paley's collages of painted and cut papers provide exceptionally beautiful scenes." —Booklist (Starred Review)
"In addition to the well-researched and well-organized text, most pages utilize onomatopoeia that is sure to be enjoyed by young readers.... Guiberson's book is sure to delight readers." —School Library Journal
"The passing of the seasons and the maturing of the penguin young are told in language both poetic and gripping. Paley's stunning collages, made from her own hand-painted paper, depict adorably chubby penguins set against a haunting, icy landscape of blue, purple, turquoise, gray and rose." —Children's Literature

"school and public libraries will find this title useful for elementary school science reports, and nature lovers will love the pictures." —Kirkus Reviews
Square Fish, 9780805076363, 32pp.
Publication Date: September 1, 2004
About the Author
Brenda Z. Guiberson
has written many books for children, including
Cactus Hotel
,
Spoonbill Swamp
,
Moon Bear
and
Disasters
. As a child, Brenda never thought she wanted to be a writer—her dreams tended more toward jungle explorer. She graduated from the University of Washington with degrees in English and Fine Art. She started thinking about writing for children when her son went to elementary school, and she volunteered in his class and in the school library. After taking exciting trips that involved a fifty-foot cactus, hungry alligators and sunset-colored spoonbills, she wanted to create books for children that would be like a field trip. Her books are full of well-researched detail, and Brenda sees this research as an adventure—one that allows her to be a jungle explorer at last. She lives in Seattle, Washington.
Joan Paley has illustrated a number of books for young readers. She lives with her husband in North Scituate, Massachusetts.