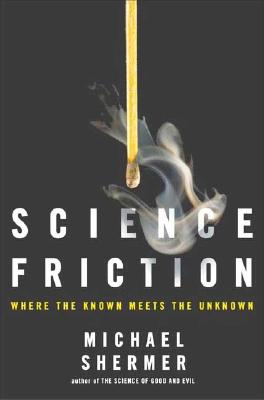 Science Friction: Where the Known Meets the Unknown (Hardcover)
Where the Known Meets the Unknown
Times Books, 9780805077087, 336pp.
Publication Date: December 9, 2004
* Individual store prices may vary.
or
Not Currently Available for Direct Purchase
Description
Bestselling author Michael Shermer delves into the unknown, from heretical ideas about the boundaries of the universe to Star Trek's lessons about chance and time

A scientist pretends to be a psychic for a day-and fools everyone. An athlete discovers that good-luck rituals and getting into "the zone" may, or may not, improve his performance. A historian decides to analyze the data to see who was truly responsible for the Bounty mutiny. A son explores the possiblities of alternative and experimental medicine for his cancer-ravaged mother. And a skeptic realizes that it is time to turn the skeptical lens onto science itself.

In each of the fourteen essays in Science Friction, psychologist and science historian Michael Shermer explores the very personal barriers and biases that plague and propel science, especially when scientists push against the unknown. What do we know and what do we not know? How does science respond to controversy, attack, and uncertainty? When does theory become accepted fact? As always, Shermer delivers a thought-provoking, fascinating, and entertaining view of life in the scientific age.
About the Author
Michael Shermer is the author of "The Believing Brain," "Why People Believe Weird Things," "The Science of Good and Evil," "The Mind Of The Market," "Why Darwin Matters," "Science Friction," "How We Believe" and other books on the evolution of human beliefs and behavior. He is the founding publisher of "Skeptic" magazine, the editor of Skeptic.com, a monthly columnist for "Scientific American," and an adjunct professor at Claremont Graduate University. He lives in Southern California.
Advertisement