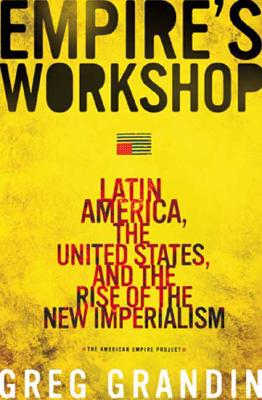 Empire's Workshop
Latin America, the United States, and the Rise of the New Imperialism
Hardcover

* Individual store prices may vary.
Other Editions of This Title:
Paperback (5/1/2007)
Description
An eye-opening examination of Latin America's role as proving ground for U.S. imperial strategies and tactics

In recent years, one book after another has sought to take the measure of the Bush administration's aggressive foreign policy. In their search for precedents, they invoke the Roman and British empires as well as postwar reconstructions of Germany and Japan. Yet they consistently ignore the one place where the United States had its most formative imperial experience: Latin America.

A brilliant excavation of a long-obscured history, Empire's Workshop is the first book to show how Latin America has functioned as a laboratory for American extraterritorial rule. Historian Greg Grandin follows the United States' imperial operations, from Thomas Jefferson's aspirations for an "empire of liberty" in Cuba and Spanish Florida, to Ronald Reagan's support for brutally oppressive but U.S.-friendly regimes in Central America. He traces the origins of Bush's policies to Latin America, where many of the administration's leading lights--John Negroponte, Elliott Abrams, Otto Reich--first embraced the deployment of military power to advance free-market economics and first enlisted the evangelical movement in support of their ventures.

With much of Latin America now in open rebellion against U.S. domination, Grandin concludes with a vital question: If Washington has failed to bring prosperity and democracy to Latin America--its own backyard "workshop"--what are the chances it will do so for the world?
Praise For Empire's Workshop: Latin America, the United States, and the Rise of the New Imperialism…
"The Americans who engineered countless military coups, death squads and massacres in Latin America never paid for their crimes -- instead they got promoted and they're now running the 'War on Terror.' Grandin had always been a brilliant historian, now he uses those detective skills in a book that is absolutely crucial to understanding our present."
--Naomi Klein, author of No Logo

"Greg Grandin knows the history of modern Guatemala better than anybody else in the world outside of that country-and therefore understands the nature of U.S. attitudes and action toward Latin America at their most disturbing. This grants him keen insight into the manic ferocity behind U.S. imperialism across the globe today, which he describes in fine, rich, vivid, bitter detail. Grandin also shrewdly observes that the outrages possible in little U.S. neo-colonies are not so easy to accomplish on a grand scale. His admirable book deserves many, many serious readers."
--John Womack, Robert Woods Bliss Professor of Latin American History and Economics, Harvard University and author of Zapata
Metropolitan Books, 9780805077384, 304pp.
Publication Date: May 2, 2006
About the Author
Greg Grandin is the author of "Fordlandia," "Empire's Workshop," "The Last Colonial Massacre," and the award-winning "The Blood of Guatemala." An associate professor of Latin American history at New York University, and a Guggenheim fellow, Grandin has served on the United Nations Truth Commission investigating the Guatemalan Civil War and has written for the "Los Angeles Times," "The Nation," "The New Statesman," and "The New York Times."
or
Not Currently Available for Direct Purchase