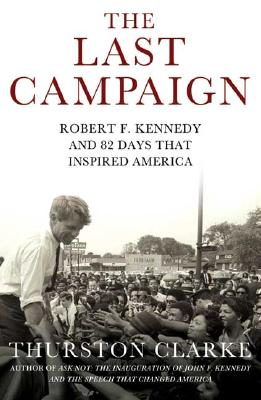 The Last Campaign (Hardcover)
Robert F. Kennedy and 82 Days That Inspired America
Henry Holt and Co., 9780805077926, 336pp.
Publication Date: May 27, 2008
Other Editions of This Title:
Digital Audiobook (5/26/2008)
CD-Audio (5/27/2008)
Paperback (5/26/2009)
Pre-Recorded Audio Player (9/1/2008)
* Individual store prices may vary.
Description
The definitive account of Robert Kennedy's exhilarating and tragic 1968 campaign for president—a revelatory history that is especially resonant now
After John F. Kennedy's assassination, Robert Kennedy—formerly Jack's no-holds-barred political warrior—almost lost hope. He was haunted by his brother's murder, and by the nation's seeming inabilities to solve its problems of race, poverty, and the war in Vietnam. Bobby sensed the country's pain, and when he announced that he was running for president, the country united behind his hopes. Over the action-packed eighty-two days of his campaign, Americans were inspired by Kennedy's promise to lead them toward a better time. And after an assassin's bullet stopped this last great stirring public figure of the 1960s, crowds lined up along the country's railroad tracks to say goodbye to Bobby.
With new research, interviews, and an intimate sense of Kennedy, Thurston Clarke provides an absorbing historical narrative that goes right to the heart of America's deepest despairs—and most fiercely held dreams—and tells us more than we had understood before about this complicated man and the heightened personal, racial, political, and national dramas of his times.
About the Author
Thurston Clarke has written eleven widely acclaimed works of fiction and nonfiction, including three "New York Times" Notable Books. His "Pearl Harbor Ghosts" was the basis of a CBS documentary, and his bestselling "Lost Hero," a biography of Raoul Wallenberg, was made into an award-winning NBC miniseries. His articles have appeared in "Vanity Fair," "The New York Times," "The Washington Post" and many other publications. He is the recipient of a Guggenheim Fellowship and other awards and lives with his wife and three daughters in upstate New York.
Praise For The Last Campaign: Robert F. Kennedy and 82 Days That Inspired America…
"A stunning, heartbreaking book, a reminder--which we badly need these days--of just how noble public life can be. Robert Kennedy's brief, passionate 1968 presidential campaign set a standard of courage and candor and sheer gorgeous language that is unlikely ever to be equaled. This is a book worthy of the man and that moment, an honorable and unforgettable piece of work. The Last Campaign should be required reading for anyone seeking public office, and for the rest of us, too."—Joe Klein
"The Last Campaign is a great read, an evocative and engaging reminder of the glory and the tragedy of Bobby Kennedy's run for the presidency in 1968. Thurston Clarke's keen eye for the telling detail and his fast-paced narrative make The Last Campaign a must-have for any student of American politics."—Tom Brokaw
"The Last Campaign is a triumphant look at Robert F. Kennedy's heartfelt plunge into the poverty underbelly of America. The reader can't help but be moved at how deeply Kennedy cared about the underclass. Thurston Clarke has written a smart political book which actually inspires."—Douglas Brinkley
"The Last Campaign is a magnificent account of the final months in the life of a man who changed so many of us, and the brilliantly told story of a campaign that broke our hearts."—E.J. Dionne, author of Souled Out: Reclaiming Faith and Politics After the Religious Right
"Tremendously moving….Clarke compellingly recreates this "huge, joyous adventure"….Kennedy's gradual but determined evolution into a fearless, formidable, winning candidate makes stupendous reading. The hope he inspired….still proves instructive and pertinent, especially in this election year. Generous without being slavish, beautifully capturing Kennedy's passion and dignity."—Kirkus (starred review)
"…revealing as an iconic portrait of the passionate, turbulent zeitgeist of the 1960s."—Publisher's Weekly
"I'll be shocked if I read a more devastatingly beautiful book than Thurston Clarke's The Last Campaign… this year…. Robert F. Kennedy's moral imagination shines in this book, so brightly, so compassionately, so full of literature and light and sacrifice, that it will haunt many readers who had hoped matters of war, poverty and inequality might have been solved 40 years ago."—The Austin American-Statesman
". . .The Last Campaign, a beautifully written and emotionally powerful examination of Robert F. Kennedy's 1968 presidential campaign. . . Thurston Clarke has built The Last Campaign on an incredible amount of research, both archival and through hundreds of interviews with those who knew Kennedy best. The result is a vivid, intimate, historical portrait of a candidate who knew how to speak to an electorate amid troubled times. . . Clarke's book will break your heart but it may also relieve your cynicism, reminding all of us that candidates need not pander to succeed."—The Christian Science Monitor
". . .The Last Campaign succeeds in framing a picture within a picture of a seminal year that reverberates to this day."—St. Louis Post-Dispatch
". . .very well written and offers a ringside seat on tumultuous times."—Mike Barry
"Clarke's findings help to explain the divisions that have riven this nation for a generation. Heed this book, therefore, for the ideals and resentments that dominated that election are starkly similar to the ones facing today's voters."—The Miami Herald
"Mr. Clarke advances at a sprightly pace, has a keen eye for detail and captures not only the externals but the fascinating inner dynamics of the contest…. Captures [Kennedy's] transformation with skill, showing R.F.K. emerging, page by page, into a brilliant and utterly iconoclastic politician over those short months on the trail."—Ted Widmer, The New York Observer
"The images from "The Last Campaign," Thurston Clarke's powerful account of Robert F. Kennedy's campaign for the presidency…impel themselves on the reader, touching chords of memory and sorrow."—Michael Kenney, The Boston Globe
"A vivid portrait of a politician coming to a moral reckoning."—David Ulin, The Los Angeles Times Book Review
"A ride inside the spinning bubble of [Kennedy's] frenzied, idealistic, doomed campaign. [Clarke's] discussion of the politics of class and race—the "backlash whites" in Indiana, the affluent antiwar voters in Oregon—proves remarkably topical, as is the moral challenge of Kennedy's speeches on poverty."—The New Yorker
"Clarke's stirring narrative takes readers back to the late 1960s, that idealistic, hopeful—then tragic—time in history."—Times-Picayune
". . . an exhilarating read. . . passionate retelling."—Gilbert Cruz, TIME
". . . Clarke comes away with a focused, unique and worthy discovery of what happened during those two and a half months."—J. Taylor Rushing, The Hill, TheHill.com
". . . a fine addition to the Kennedy canon."—Todd Leopold, CNN.com
"Well-reported and well-written."—The Dallas Morning News, Steve Weinberg
". . . takes a detailed and fascinating look at the period. . . "—Greg Morano, Hartford Courant
"Piercing and painstakingly researched, it's political history written right."—New York Magazine
"Fortunately … the author of this book is Thurston Clarke, an excellent writer and super-diligent reporter."—Jack Lessenberry, Toledo Blade
"Clarke captures the Kennedy campaign in unusually graphic terms, quoting people along motorcade routes, quoting conversations Kennedy had with his staff and leading political figures. He makes the campaign come alive again, a strange thing in light of how much things have changed. This is political storytelling at its zenith."—Dennis Lythgoe, Deseret News
"One of the many pleasures of reading Thurston Clarke's … The Last Campaign … is the introduction it provides to RFK's fierce moral rhetoric."—Nick Hornby
Piercing and painstakingly researched, it's political history written right.—New York Magazine
"A fast, easy, infectious read."—ExpressNightOut.com
"The definitive account of Robert Kennedy's last campaign."—Larry Cox, The Tucson Citizen
"Enthralling."—
The Irish Times
or
Not Currently Available for Direct Purchase