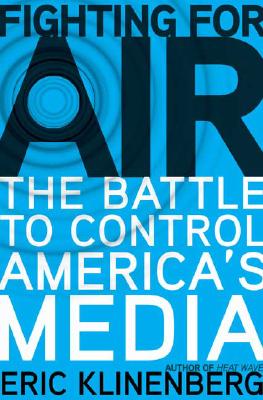 Fighting for Air (Hardcover)
The Battle to Control America's Media
Metropolitan Books, 9780805078190, 352pp.
Publication Date: January 9, 2007
Other Editions of This Title:
Digital Audiobook (12/31/2007)
Paperback (1/8/2008)
Compact Disc (1/1/2008)
Audio Cassette (1/1/2008)
Pre-Recorded Audio Player (5/1/2009)
Compact Disc (2/1/2013)
MP3 CD (1/1/2008)
* Individual store prices may vary.
Description
A groundbreaking investigative work by a critically acclaimed sociologist on the corporate takeover of local news and what it means for all Americans
For the residents of Minot, North Dakota, Clear Channel Communications is synonymous with disaster. Early in the morning of January 18, 2002, a train derailment sent a cloud of poisonous gas drifting toward the small town. Minot's fire and rescue departments attempted to reach Clear Channel, which owned and operated all six local commercial radio stations, to warn residents of the approaching threat. But in the age of canned programming and virtual DJs, there was no one in the conglomerate's studio to take the call. The people of Minot were taken unawares. The result: one death and more than a thousand injuries.
Opening with the story of the Minot tragedy, Eric Klinenberg's Fighting for Air takes us into the world of preprogrammed radio shows, empty television news stations, and copycat newspapers to show how corporate ownership and control of local media has remade American political and cultural life. Klinenberg argues that the demise of truly local media stems from the federal government's malign neglect, as the agencies charged with ensuring diversity and open competition have ceded control to the very conglomerates that consistently undermine these values and goals.
Such "big media" may not be here to stay, however. Fighting for Air delivers a call to action, revealing a rising generation of new media activists and citizen journalists--a coalition of liberals and conservatives--who are demanding and even creating the local coverage they need and deserve.
About the Author
Eric Klinenberg, associate professor of sociology at New York University, is the author of the highly acclaimed "Heat Wave: A Social Autopsy of Disaster in Chicago." The recipient of numerous academic awards and fellowships, Klinenberg has also written for "Rolling Stone," "The Nation," and "Slate."
Praise For Fighting for Air: The Battle to Control America's Media…
"Eric Klinenberg has written an extraordinary and powerful account of the devastating elimination of localism in U.S. media and journalism, and how Americans from all walks of life are rising up to challenge the great media crisis that grips our nation today. Brilliantly written and tightly argued, Fighting for Air is the perfect book for anyone wanting to understand what is going on in this country, and why it is so important to our future."--Robert W. McChesney, author of The Problem of the Media "Eric Klinenberg has given us a chilling report on how the American news media, increasingly concentrated, have made a mockery of the commitment to operate 'in the public interest, convenience, and necessity.' Admirably researched and lucidly written, Fighting for Air should serve as a wake-up call on the deafness of radio and television to communal needs." --Daniel Schorr, Senior News Analyst for National Public Radio "Big media conglomerates--in radio, TV and newspapers--have taken over local outlets all over America, silencing independent local voices. Eric Klinenberg has done a masterful job of researching what has happened to America's local news media. Fighting for Air is a must-read for anyone who cares about the role of the media in a democracy."--George Lakoff, author of Don't Think of an Elephant! "Fighting for Air is a richly detailed, compelling, and timely investigation into the problem of the U.S. media and what people are doing to take it back. Klinenberg pulls back the curtain on complex media policy issues, with stories of real people, how they have been harmed by Big Media, and follows up with inspiring tales of underdogs who are fighting back and winning. This book is a call to action to fight for a strong, vigorous, independent media."--Amy Goodman, host and executive producer of Democracy Now!
or
Not Currently Available for Direct Purchase