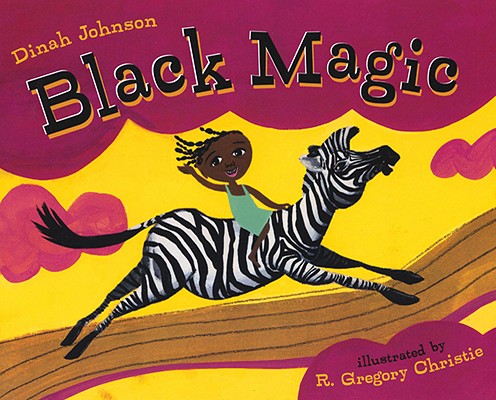 Black Magic (Hardcover)
Henry Holt & Company, 9780805078336, 32pp.
Publication Date: January 19, 2010
* Individual store prices may vary.
or
Not Currently Available for Direct Purchase
Description
Black is a look, a taste, a speed, an emotion. It's the surprising stripes on a zebra, the taste of dark chocolate, the scary, exciting feeling of going inside a tunnel, and a mother's voice as her daughter falls asleep.
In this celebration of the African American spirit, Dinah Johnson and R. Gregory Christie paint a picture of "black" that is vivid, varied, and proud.
About the Author
Dinah Johnson has written several books for young readers including "Hair Dance!," "Quinnie Blue" and" Sunday Week." A professor of English literature at the University of South Carolina, Ms. Johnson lives with her daughter, Niani, in Columbia, South Carolina. www.dinahjohnson.comR. Gregory Christie has illustrated many picture books, three of which won a Coretta Scott King Honor for Illustrator: "The Palm of My Heart: Poetry by African American Children"; "Only Passing Through" " The Story of Sojourner Truth"; and "Yesterday I Had the Blues." He lives in Brooklyn, New York. www.gas-art.com
Praise For Black Magic…
Praise for Black Magic: "With bright, bold images and poetic phrases that capture a child's exuberance and unbound imagination, Johnson expresses feelings of pride and joy in unexpected ways. … You don't have to be black to be swept up by this "Magic."—San Francisco Chronicle "While Johnson's prose is crisp and definitive, Christie's artwork takes the words and imaginatively whirls them in stylized, riotously colored pictures that will remind some of Maira Kalman's work. The exuberance this child feels in exploring black in all its permutations can't help but spill over to young listeners, who will have fun thinking up pieces of black magic in their own lives."—Booklist, Starred Review "This expressive book combines well-matched text and pictures to pay tribute to the myriad qualities of blackness. Buoyant yet reflective, Johnson's (Hair Dance!) free-flowing verse presents an imaginative girl's musings on the essence of black…With vibrant colors offsetting velvety black images, Christie's (Bad News for Outlaws) acrylic gouache illustrations playfully tweak perspective and scale, echoing the verse's energy and fluidity."—Publishers Weekly "These early literacy concepts are conveyed in short, snappy lines of text that make the book an outstanding choice for preschool storytimes. The African-American children in Christie's illustrations have a variety of hairstyles and skin tones and are shown playing with children of other races. The bright acrylic colors capture the energy of childhood, and the artist's bold, loose brushstrokes further underscore the dynamic nature of the text, and of the little girl who narrates it."—School Library Journal "'My hundred black braids make a spiderweb around my head, / and Mama's voice is black and sweet as I fall asleep.' This emotionally rich sentence is representative of this winning celebration of blackness. Johnson successfully uses figurative language to describe basic concepts and more complex connections, such as using color to describe emotions. She effortlessly zigzags from the immensity of the sky to the comfortable warmth of a puppy. The illustrations are bright and vibrant and provide an excellent contrast to the actual color black, which appears throughout the book. …. Adults will find this book a great conversation starter with little ones."—Kirkus Reviews
Advertisement