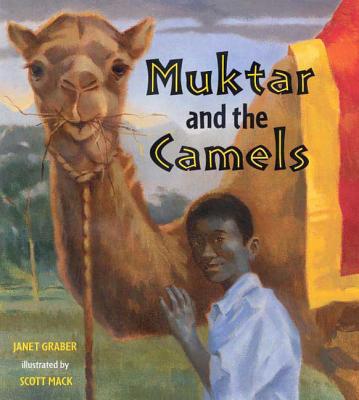 Muktar and the Camels (Hardcover)
Henry Holt & Company, 9780805078343, 32pp.
Publication Date: August 18, 2009
* Individual store prices may vary.
Description
Muktar lives in an orphanage on the border of Kenya and Somalia. He daydreams about his old life with his family and especially tending to camels. One day, visitors arrive bearing books, and Muktar's friend Ismail is excited; so is Muktar, but for a different reason the visitors are riding on camels. Muktar quickly discovers that one of the animals is injured and realizes this is his chance to prove himself. If there is anythingMuktar knows, it is camels. Through the eyes of an endearing protagonist whose love and respect for animals shines, this beautifully told story introduces young readers to another part of the world and way of life.
About the Author
JANET GRABER is the author of Jacob and the Polar Bears. Muktar and the Camels received a McKnight Award given by the Minnesota Literary Loft. She lives in Minnesota. SCOTT MACK is the recipient of a Silver Medal from the Society of Illustrators. Muktar and the Camels is his first picture book for children. He lives in Muskegon, Michigan.
Praise For Muktar and the Camels…
Praise for Muktar and the Camels: "The present-tense narrative is immediate and spare and is beautifully illustrated by the spacious oil paintings, in desert reds and oranges, which convey the boy's bond with the animals. An author's note and a map fill in more about the war and about the camels, which really do deliver library books."—Booklist "Muktar's enthusiasm, knowledge and talent with camels will attract young readers, and the story of the unusual delivery system will engage those who delight in knowing that children everywhere benefit from free library services."—Kirkus Reviews
or
Not Currently Available for Direct Purchase