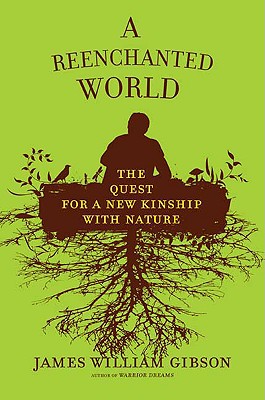 A Reenchanted World
The Quest for a New Kinship with Nature
Hardcover

* Individual store prices may vary.
Other Editions of This Title:
Paperback (3/30/2010)
Description
A surprising and enlightening investigation of how modern society is making nature sacred once again
For more than two centuries, Western cultures, as they became ever more industrialized, increasingly regarded the natural world as little more than a collection of useful raw resources. The folklore of powerful forest spirits and mountain demons was displaced by the practicalities of logging and strip-mining; the traditional rituals of hunting ceremonies gave way to the indiscriminate butchering of animals for meat markets. In the famous lament of Max Weber, our surroundings became "disenchanted," with nature's magic swept away by secularization and rationalization.
But now, as acclaimed sociologist James William Gibson reveals in this insightful study, the culture of enchantment is making an astonishing comeback. From Greenpeace eco-warriors to evangelical Christians preaching "creation care" and geneticists who speak of human-animal kinship, Gibson finds a remarkably broad yearning for a spiritual reconnection to nature. As we grapple with increasingly dire environmental disasters, he points to this cultural shift as the last utopian dream—the final hope for protecting the world that all of us must live in.
Praise For A Reenchanted World: The Quest for a New Kinship with Nature…
"Of all the holes in the human heart, perhaps none is bigger than the space once occupied by our connections to wild things and the rhythms of nature. A Reenchanted World reveals the many ways in which our self-imposed exile from our original network of natural relationships is civilization's most disorienting misstep. Fortunately for us, James William Gibson gives us a compass back to that very sane, very grounded place. This is a wisely haunting, soulful book."
—Carl Safina, author of Song for the Blue Ocean and Voyage of the Turtle "A fast-paced and highly rewarding account of the struggle to realize a deeper consciousness of the human relationship with nature—before it is too late."
—James Gustave Speth, author of The Bridge at the Edge of the World: Capitalism, the Environment, and Crossing from Crisis to Sustainability "An important history of the reconnection with our animal origins. Gibson's charting of the slow, rocky road to human awareness of our place in the natural world is well worth reading."
—Benjamin Kilham, author of Among the Bears: Raising Orphan Cubs in the Wild "Maybe just in time (and maybe not), we are rediscovering the world that we had buried under a mountain of abstractions—'economy,' 'culture,' 'faith.' Our planet is actually at the heart of all of these, and thank heaven some are reaching back for that vestigial memory."
—Bill McKibben, author of Deep Economy: The Wealth of Communities and the Durable Future
Metropolitan Books, 9780805078350, 320pp.
Publication Date: April 14, 2009
About the Author
James William Gibson is the author of "Warrior Dreams: Paramilitary Culture in Post-Vietnam America" and "The Perfect War: Technowar in Vietnam." A frequent contributor to the "Los Angeles Times" and the winner of multiple awards, including a Guggenheim Fellowship, Gibson is a professor of sociology at California State University, Long Beach. He lives in Los Angeles.
or
Not Currently Available for Direct Purchase