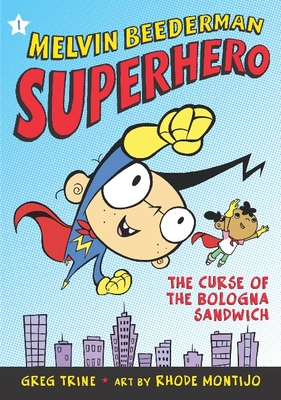 The Curse of the Bologna Sandwich (Melvin Beederman, Superhero #1) (Paperback)
Square Fish, 9780805078367, 144pp.
Publication Date: May 30, 2006
* Individual store prices may vary.
Description
Bad guys tremble at the sound of his name!
Meet Melvin Beederman. He's a pretty good superhero, even though it always takes him five or six tries to get launched and flying. His weakness (every superhero has one) is bologna, which makes it hard to go into a deli. Still, Melvin manages to keep the city of Los Angeles free of nasty villains—once he's airborne.
Crash! Splat! Thud! Kabonk!
This series has it all: hilarious story lines, amazing classic-comic-inspired illustrations, fearless new superheroes, and SNACKS!
Bad guys tremble at the sound of his name!
Melvin loves fighting crime in Los Angeles, until the McNasty Brothers, the baddest guys of all, start robbing banks—and Melvin's superpowers mysteriously disappear. Enter Candace, a third-grade actress with some surprising new talents. Once they team up, nothing can beat these partners in uncrime. Nothing but bologna, that is . . .
About the Author
Greg Trine is the author of the Melvin Beederman, Superhero books, which he creates with his illustrator sidekick, Rhode Montijo.  He is also the author of the young adult book, The Second Base Club. He lives with his family in his Southern California hideout.

Rhode Montijo is the illustrator of the Melvin Beederman Superhero series. He lives in Oakland, California. He believes that creating children's books is super! His weakness: red licorice.
Praise For The Curse of the Bologna Sandwich (Melvin Beederman, Superhero #1)…
"A fun, flighty caper. Slyly sprinkled with borrowings from superhero tales and packed with kid-pleasing yucks, this copiously and comically illustrated tale is sufficiently full of baloney to fly." —Publishers Weekly on Melvin Beederman
"Trine's fast-paced, humorous new series will capture the hearts of bright new readers." —Jody Fickes Shapiro, Adventures for Kids, Ventura, CA, Booksense Children's Picks on Melvin Beederman
"Trine and Montijo have given readers an appealing superhero and his trusty assistant. These delightfully entertaining adventure stories are a must-have for most libraries." —School Library Journal on Melvin Beederman