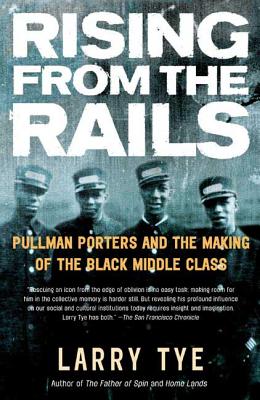 Rising from the Rails: Pullman Porters and the Making of the Black Middle Class (Paperback)
Pullman Porters and the Making of the Black Middle Class
Holt McDougal, 9780805078503, 352pp.
Publication Date: June 1, 2005
Description
"A lively and engaging chronicle that adds yet another dimension to the historical record."-The Boston Globe
When George Pullman began recruiting Southern blacks as porters in his luxurious new sleeping cars, the former slaves suffering under Jim Crow laws found his offer of a steady job and worldly experience irresistible. They quickly signed up to serve as maid, waiter, concierge, nanny, and occasionally doctor and undertaker to cars full of white passengers, making the Pullman Company the largest employer of African Americans in the country by the 1920s.
Drawing on extensive interviews with dozens of porters and their descendants, Larry Tye reconstructs the complicated world of the Pullman porter and the vital cultural, political, and economic roles they played as forerunners of the modern black middle class. Rising from the Rails provides a lively and enlightening look at this important social phenomenon.
About the Author
LARRY TYE has been an award-winning journalist at The Boston Globe and a Nieman Fellow at Harvard University. He now runs a Boston-based training program for medical journalists. He is the author of the New York Times bestseller Satchel, as well as Bobby Kennedy, Superman, The Father of Spin, Home Lands, Rising from the Rails, and co-author, with Kitty Dukakis, of Shock. He lives in Massachusetts.
Praise For Rising from the Rails: Pullman Porters and the Making of the Black Middle Class…
"This book brings to life the stirring story of the civil rights legacy of A. Phillip Randolph and the Pullman porters, which is an inspiration to those of us following in their footsteps. Kudos to Larry Tye for giving us this wonderfully readable, and incredibly important, history."
--Congressman Jesse L. Jackson, Jr.

"Larry Tye has written a much-deserved love song to the forgotten men of the civil rights and labor movements – the Pullman Porters who defeated a major corporation, helped finance numerous civil rights battles, spread news and culture nation-wide, and set a high standard for dignity." –Julian Bond, Chairman, NAACP Board of Directors

"This is one terrific book. It's a chapter of American history about which few of us know much, and it's a reminder of what life was like for African-Americans in this country, at least until the last few decades. But it's mostly about these men-- their courage, their tenacity and their hopes and dreams for their children and grandchildren. Many of them are no longer with us, but they should and would be rightly proud of how much their kids and grandkids have achieved and how much they have given to this country." –Michael Dukakis, Former governor of Massachusetts, former vice-chair of Amtrak board

"This book does a magnificent job in relating how a relatively small group of struggling workers shaped not only the African-American community but all of the United States. The story of the Pullman porter is no less important than any other struggle for civil rights in the American labor movement." –James P. Hoffa, General President, International Brotherhood of Teamsters

"Larry Tye's Rising from the Rails recreates an important chapter in the history of black people in this country: the hard earned passage of thousands of blacks into the middle class. By examining the progress of the Pullman porter - from the step and fetch it caricature to pensioned union member - Tye captures one of black people's many struggles to achieve equality. This is la story all Americans should know." –Vernon E. Jordan, Jr., Senior Managing Director at Lazard LLC and author of Vernon Can Read!: A Memoir

"Rising from the Rails chronicles the pioneering role the Pullman porters and their leader, A. Philip Randolph, played in building America's union movement. This vividly told story should be required reading for those who care about labor history, race history, and US history." –John J. Sweeney, President, AFL-CIO

"This is a well-researched and sympathetic history, a slice of Americana worth knowing."
--Seattle Times

"Rescuing an icon from the edge of oblivion is no easy task; making room for him in the collective memory is harder still. But revealing his profound influence on our social and cultural institutions today requires insight and imagination. Larry Tye has both."
--The San Francisco Chronicle

"[Tye's] analysis of class perceptions and race relations reverberates to the current day."
--Booklist

"[A] highly readable business history at one end and labor history at the other... entertaining detail abounds... So does informing detail."
--Publisher's Weekly

"Tye's work is worth the ride for its comprehensive survey of a topic that deserves much attention."
--Library Journal
Advertisement