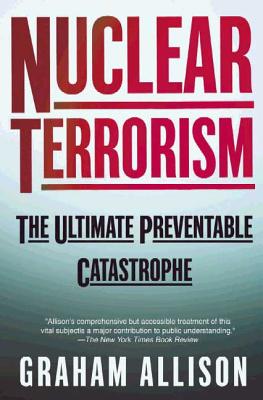 Nuclear Terrorism
The Ultimate Preventable Catastrophe
Paperback

* Individual store prices may vary.
Other Editions of This Title:
Paperback (3/30/2006)
Description
"Allison's comprehensive but accessible treatment of this vital subject is a major contribution to public understanding." -The New York Times Book Review

Americans in the twenty-first century are keenly aware of the many forms of terrorism: hijackings, biological attacks, chemical weapons. But the deadliest form is almost too scary to think about-a terrorist group exploding a nuclear device in an American city.

In this urgent call to action, Graham Allison, one of America's leading experts on nuclear weapons and national security, presents the evidence for two provocative, compelling conclusions. First, if policy makers in Washington keep doing what they are currently doing about the threat, a nuclear terrorist attack on America is inevitable. Second, the surprising and largely unrecognized good news is that nuclear terrorism is, in fact, preventable. In these pages, Allison offers an ambitious but feasible blueprint for eliminating the possibility of nuclear terrorist attacks, if we are willing to face the issue squarely.
Praise For Nuclear Terrorism: The Ultimate Preventable Catastrophe…
"Graham Allison's Nuclear Terrorism is absolutely first-rate. Our survival as a civilization may well depend more than anything else on our heeding the recommendations of this chilling and superbly crafted book." —R. James Woolsey, former Director of Central Intelligence

"Graham Allison is a latter day Paul Revere, calling citizens to arms against the real and rising threat of nuclear terrorism. In clear, readable words of wisdom, Allison tells us 'everything we ever wanted to know about nuclear terrorism,' but he also tells us what we must do to prevent nuclear terrorism. For everyone from national security specialists trying to define a strategy to parents who want to leave their children a world worth living in, Graham Allison's book is essential reading." —Sam Nunn, former U.S. Senator and co-chairman, Nuclear Threat Initiative

"Graham Allison has produced a book that it is truly alarming about the danger of nuclear terror -- yet optimistic about our prospects if we do all that we could and should. One only hopes it is read and heeded." —Richard Haass, president, Council on Foreign Relations

"In an era of color-coded terror alerts and rigorous security checks, Allison provides a rare dose of alarmism well informed." —The Boston Globe

"Allison goes beyond the usual hand-wringing about a nuclear-armed Al Qaeda. He presents sharp critiques of White House failures to tackle the problem and proposes concrete solutions." —Newsweek

"Allison applies a long, distinguished career in government and academia to this sobering--indeed frightening--presentation of U.S. vulnerability to a terrorist nuclear attack." —Publishers Weekly

"Addressing general readers, Allison comprehensively discusses the perilous situation. Required for the current affairs shelf." —Booklist
Holt Paperbacks, 9780805078527, 288pp.
Publication Date: August 1, 2005
About the Author
Graham Allison is former Dean of the Kennedy School. He has authored more than a dozen books including Essence of Decision: Explaining the Cuban Missile Crisis which has sold over 200,000 copies.