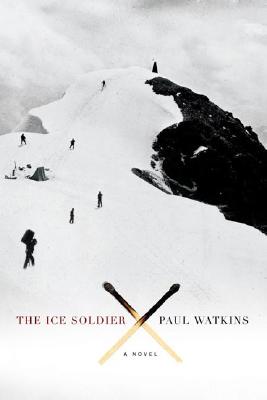 The Ice Soldier (Hardcover)
Henry Holt and Co., 9780805078671, 352pp.
Publication Date: December 27, 2005
* Individual store prices may vary.
or
Not Currently Available for Direct Purchase
Description
One man's quiet life is shattered when he's forced to confront terrifying secrets he'd thought buried high in the Italian Alps
The New York Times has called his work "daring and remarkably assured," The Washington Post has dubbed it "shamelessly entertaining," and the Los Angeles Times claims it renders "the raw elegence of the human experience itself." Now Paul Watkins returns with his most engaging and atmospheric novel yet. The ice soldier of the title is one William Bromley. Following a disasterous turn in the Alps during the Second World War, William has constructed for himself a quiet and lonely life as a history teacher at a London boarding school. For different reasons, he and his best friend Stanley have given up the world of mountaineering for a more peaceful existence. Peaceful that is, until a soldier from William's mountain regiment reappears, tragedy occurs, and a terrible bargain is made. Slowly, the horrifying events of the war come back to William, and he realizes what he must do. He is to confront his worst fears and memories by returning to the glaciers and peaks of northern Italy.
The little-known role of the army's mountaineer corps comes brilliantly to life in this story of men pushed to the limits of endurance and survival, and haunted by the ghosts of war.

"Paul Watkins is without question one of the most gifted writers of his generation." --Tobias Wolff
About the Author
Paul Watkins is the author of nine novels, including "The Forger," "Archangel," and "Night over Day over Night," as well as the memoir "Stand Before Your God." He attended the Dragon School at Eton and Yale, and currently lives with his family in Princeton, New Jersey, where he teaches at the Peddie School and Lawrenceville Academy.
Praise For The Ice Soldier…
"This sumptuously detailed, beautifully written and gripping novel by Paul Watkins...works on so many levels that as he meticulously peels away the layers of character and circumstance, we participate avidly in the process of revelation and surprise...(Watkins) keeps you racing from page to page, illuminated by terrifyingly poetic descriptions of glaciers, alien winds, heaves of storm and blinding light. Watkins writes with such ease and grace that you ride every sentence with him, a lyrical fluidity that seems entirely unforced and unhurried." --The Providence Journal

"Watkins's earlier novels have gained him a reputation as a Hemingwayesque writer of clean, elegant prose and also a maser of atmospherics. In The Ice Soldier he again proves himself on both counts...Watkins's skill as a writer is indisputable, and as an adventure tale The Ice Soldier offers unexpected pleasures." --Christian Science Monitor

"Watkins' book has utterly infectious vitality...I've seldom read a more precise and sensually anchored representation of deadly confusion than the gripping late scene in which Bromley and his men are surprised by an advance guard of the German army on their way to the glacier...On human strength and frailty, Watkins and The Ice Soldier are superb. While I was immersed in Bromley's Alpine adventures, you could not have pried this book from my hands with a crowbar." --The Baltimore Sun

"...renders a sharp, clear picture of the dangerous beauty of the climber's world, on the cold fringes of survival." --Esquire

"...the author nails the dynamics of male-dominated environments and viscerally conveys the perils of mountaineering in staccato prose that would make Hemingway proud." --Entertainment Weekly

"...a narrative so strong in imagery and detail that the reader can almost feel the gusts of an Alpine blizzard." --Library Journal

"Watkins brings to life a time when mountaineers were the world's great adventurers, regaled in the newspapers and toasted in the streets, as brave and bold as today's astronauts." --The Washington Post

"As usual, Watkins writes beautifully...He displays knowledge of half-century old climbing equipment and techniques, and his precisely observed details are sharp. One can feel the scratch of the wool and the sting of the ice, taste the bean soup climbers eat and smell the smoke of the fire over which it was warmed. Plants the flag for good, manly story-telling." --Kirkus Reviews

"A vivid, elegant novel...Watkins is fluent in 'the languages of rock and cloud and ice', and his empathy creates a clear portrait of a man refusing to be undone by his past." --Publisher's Weekly

"...outstanding new novel...Watkins evokes post World War II Britain with the same astonishing clarity that he uses to describe the abject loneliness of the mountain climber and his adversary, the mountain itself. The narrator's flashbacks to the war are vivid and horrifying. The most accomplished aspect of this novel, however, is how Watkins gets into the hearts of his characters with his precise prose...the reader is only too willing to accompany them." --Fiction.com
Advertisement