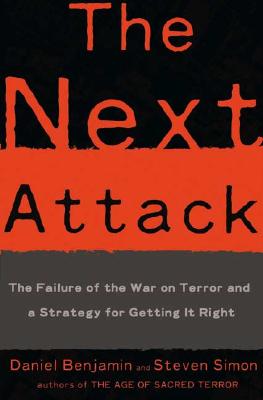 The Next Attack: The Failure of the War on Terror and a Strategy for Getting it Right (Hardcover)
The Failure of the War on Terror and a Strategy for Getting it Right
Times Books, 9780805079418, 352pp.
Publication Date: October 13, 2005
* Individual store prices may vary.
or
Not Currently Available for Direct Purchase
Description
The authors of the bestseller The Age of Sacred Terror show how the United States is losing the war on terror and what we need to do if we're serious about winning it.

We are losing. Four years and two wars after September 11, 2001, the United States is no closer to victory in the "war on terror." In fact, we are unwittingly clearing the way for the next attack.

In this provocative new book, Daniel Benjamin and Steven Simon show how the terrorist threat is evolving, with a broadening array of tactics, an army of new fighters and, most ominously, a widening base of support in the global Muslim community. The jihadist movement has been galvanized by the example of 9/11 and the missteps of the U.S. government, which has consistently failed to understand the nature of the new terror. Left on this trajectory, much worse faces us in the near future.

It doesn't have to be this way. The Next Attack makes the case that America has the capacity to stem the tide of Islamic terrorism, but Benjamin and Simon caution that this will require a far-reaching and creative new strategy, one that recognizes that the struggle has been over-militarized and that a campaign for reform must be more than rhetoric and less than bayonets. And they point out how America's increasing tendency to frame the conflict in religious terms has undermined our ability to advance our interests.
Is America is truly equipped to do what is necessary to combat Islamist terrorism, or are we too blinded by our own ideology? The answer to that question will determine how secure we will truly be, in the years and decades to come.
About the Author
DANIEL BENJAMIN is a senior fellow at the Center for Strategic and International Studies. He previously served as director for counterterrorism on the National Security Council staff and as special assistant and foreign-policy speechwriter for President Clinton. He is a former Berlin bureau chief for "The Wall Street Journal" and foreign correspondent for "Time." He is a graduate of Harvard and Oxford universities.

STEVEN SIMON teaches at Georgetown University, having previously been assistant director of the International Institute for Strategic Studies in London. He served on the National Security Council staff for five years following a career at the U.S. Department of State in Middle Eastern security affairs. He holds degrees from Columbia, Harvard, and Princeton and was an international affairs fellow at Oxford.
Praise For The Next Attack: The Failure of the War on Terror and a Strategy for Getting it Right…
"Carefully reasoned, highly convincing...a persuasive and utterly frightening picture of the current state of America's war on terror."
--Michiko Kakutani of The New York Times

"Written in clear and credible prose... anyone who cares about putting al Qaeda out of business should make time for this book."
--Warren Bass of The Washington Post

"The best argued and most thoroughly reported account of why…"we are losing" the war against the bin Laden progeny."
--Frank Rich, The New York Times

"For anyone who cares about the security of the West and its relationship with the Muslim world, The Next Attack is a book that must be read. Benjamin and Simon understand the terrorist threat as few others do, and their recommendations should influence leaders around the world."--Former President Bill Clinton
"No matter how you feel about the war on Iraq, you should read this book on what we can do to fight our global struggle against terrorists and the jihadist ideology that fuels them. Daniel Benjamin and Steven Simon authors describe the rise of Islamic radicalism and the requirements of homeland security with great intelligence and knowledge."
--Walter Isaacson, author of Kissinger: A Biography and Benjamin Franklin: An American Life

"Daniel Benjamin and Steven Simon were right about Al Qaeda in their top-secret analyses in the 1990s. Their last book explained it clearly to the public. Now, in The Next Attack, they tell us that it's not over yet. This is an important contribution to a nation that is still all too vulnerable to another 9/11-like tragedy at the hands of the jihadists."
--Richard A. Clarke, author of Against All Enemies

"Before September 11, Daniel Benjamin and Steven Simon warned clearly and convincingly that America had underestimated its enemies in al Qaeda. Few listened. Now they have issued a new and chilling portrait of the evolving threat, and they warn again that America does not understand its adversaries. This is an intelligent, important, and riveting book from two of the country's leading specialists on violent Islamic extremism."
--Steve Coll, author of Ghost Wars
Advertisement