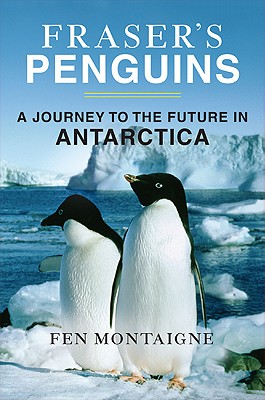 Fraser's Penguins
A Journey to the Future in Antarctica
Hardcover

* Individual store prices may vary.
Other Editions of This Title:
Paperback (1/3/2012)
Description
A dramatic chronicle of Antarctica's penguins that bears witness to climate changes that foreshadow our own future
The towering mountains and iceberg-filled seas of the western Antarctic Peninsula have for three decades formed the backdrop of scientist Bill Fraser's study of Adélie penguins. In that time, this breathtaking region has warmed faster than any place on earth, with profound consequences for the Adélies, the classic tuxedoed penguin that is dependent on sea ice to survive. During the Antarctic spring and summer of 2005-2006, author Fen Montaigne spent five months working on Fraser's field team, and he returned with a moving tale that chronicles the beauty of the wildest place on earth, the lives of the beloved Adélies, the saga of the discovery of the Antarctic Peninsula, and the story—told through Fraser's work—of how rising temperatures are swiftly changing this part of the world. Captivated by the tale of these polar penguins and a memorable field season in Antarctica, readers will come to understand that the fundamental changes Fraser has witnessed in the Antarctic will soon affect our lives.
Praise For Fraser's Penguins: A Journey to the Future in Antarctica…
"Montaigne is a controlled writer, offering careful and clear explanations of matters technical and lexicographic, biologically microscopic and meteorologically global. But it's his descriptive prowess, his ability to evoke lavender—and cobalt, magenta and violet—without waxing purple, that most impresses ....  Sometimes telling less reveals more. At other times, Montaigne gives thrilling, blow-by-blow accounts of bird battles and breakups .... Fraser's Penguins leaves one feeling exhilarated—by these remarkable creatures, the landscape they inhabit and the scientists who've devoted their lives to studying both."—Elizabeth Royte, The New York Times Book Review 
"Exceptionally poignant. [Montaigne] voices the emotions that inundate everyone who works in this vast wilderness. And he captures details such as the fantastic scenery as the boat picks its way through broken sea ice dotted with resting seals and groups of penguins squint-eyed under a dazzling light."—Yvon Le Maho, Nature
"In this sympathetic firsthand report, Montaigne describes the lives of both the researchers who brave the harsh weather and the penguins whose habitat is quickly becoming inhospitable to their reproduction. Montaigne's compelling account is a clear and impassioned call for environmental action before the consequences of global warming turn catastrophic worldwide."—Rick Roche,
Booklist
"A bittersweet account of the stark beauty of the continent and the climate change that threatens its delicate ecosystem .... Montaigne poetically portrays the daunting Antarctic landscape and gives readers an intimate perspective on its rugged, audacious, and charming penguin and human inhabitants."—PW
"Sobering, fact-based cautionary treatise on the quiet storm of climate change."—Kirkus
"A glimpse into the blood-and-guano facts of penguin existence. . . . Montaigne fills Fraser's Penguins with research, both journalistic and scientific, presented in clear, well-wrought sentences."—B.T. Shaw, The Oregonian
"The best books about far-off places make the exotic relatable, make the unimaginable plausible. In Fraser's Penguins, journalist and travel writer Fen Montaigne does both. He puts us up on deck as life-ending stormy waters roil off the coast of Antarctica; puts us on the ice as he's attacked (and describes attacks) by some of the world's most mysterious creatures; bundles us in warmth as we tumble out into an otherworldly, snowy, icy, chilling, breathtaking expanse."—Karen Gaudette, The Seattle Times
"Encompassing geology, biology, chunks of Antarctic history, descriptions of living and working in a bleak and beautiful environment, and personality profiles of those who like being there, Montaigne's book is a fine work of natural history to tell us of the penguins' plight, which is also our own. . . . Montaigne produces wonderful descriptions of life on a penguin colony and on the alien, beautiful frozen desert where he worked that summer. His descriptions of human life in the research station are just as interesting."—Rob Hardy, The Dispatch
"Moving effortlessly and seamlessly from poetic description to scientific discussion, Montaigne is able to weave a narrative that is both poignant and informative."—Todd Mayville, Elephant Journal
"Richly observed and keenly affecting, Fraser's Penguins is a portrait of a world in the process of disappearing. Fen Montaigne has written an evocative and important book."—Elizabeth Kolbert, author of Field Notes from a Catastrophe
"Fraser's Penguins is a book overflowing with four-story icebergs and half-ton leopard seals, a book smeared with krill-red penguin excrement, a book that makes you want to strap on your wool-lined rain-pants, jump into the nearest Zodiac, and motor head-on into ice-cold 25-mile-per-hour winds."—Jake de Grazia, ZocaloPublicSquare.org
"By focusing on the plight of the Adélie penguin, Fen Montaigne has found a way to transform the concept of global warming into a moving and irrefutable truth. Fraser's Penguins is a brilliant, beautiful, and terrifying account of what's happening at the bottom of our world."—Nathaniel Philbrick, author of The Last Stand, In the Heart of the Sea, and Sea of Glory
Henry Holt and Co., 9780805079425, 304pp.
Publication Date: November 9, 2010
About the Author
Fen Montaigne is a journalist and author whose work has appeared in "The New Yorker, National Geographic, Outside, Smithsonian, "and "The Wall Street Journal." A former Moscow bureau chief of "The Philadelphia Inquirer," he is the author of "Reeling in Russia" and has co-authored two other books. For his work on "Fraser's Penguins," Montaigne was awarded a Guggenheim Fellowship in 2006. He now works as senior editor of the online magazine "Yale Environment 360."
or
Not Currently Available for Direct Purchase