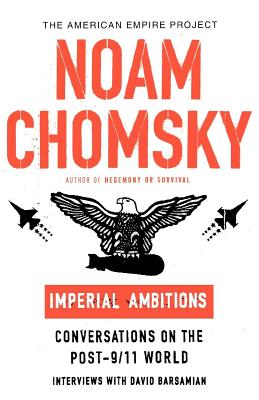 Imperial Ambitions (Paperback)
Conversations on the Post-9/11 World (American Empire Project)
Metropolitan Books, 9780805079678, 240pp.
Publication Date: October 5, 2005
Other Editions of This Title:
Digital Audiobook (10/4/2005)
Compact Disc (9/15/2005)
* Individual store prices may vary.
Description
In this first collection of interviews since the
bestselling 9-11, our foremost intellectual activist examines crucial new questions of U.S. foreign policy
Timely, urgent, and powerfully elucidating, this important volume of previously unpublished interviews conducted by award-winning radio journalist David Barsamian features Noam Chomsky discussing America's policies in an increasingly unstable world. With his famous insight, lucidity, and redoubtable grasp of history, Chomsky offers his views on the invasion and occupation of Iraq, the doctrine of "preemptive" strikes against so-called rogue states, and the prospects of the second Bush administration, warning of the growing threat to international peace posed by the U.S. drive for domination. In his inimitable style, Chomsky also dissects the propaganda system that fabricates a mythic past and airbrushes inconvenient facts out of history.
Barsamian, recipient of the ACLU's Upton Sinclair Award for independent journalism, has conducted more interviews and radio broadcasts with Chomsky than has any other journalist. Enriched by their unique rapport, Imperial Ambitions explores topics Chomsky has never before discussed, among them the 2004 presidential campaign and election, the future of Social Security, and the increasing threat, including devastating weather patterns, of global warming. The result is an illuminating dialogue with one of the leading thinkers of our time—and a startling picture of the turbulent times in which we live.
About the Author
Noam Chomsky is the author of numerous bestselling political works, including Hegemony or Survival and Failed States. A laureate professor at the University of Arizona and professor emeritus of linguistics and philosophy at MIT, he is widely credited with having revolutionized modern linguistics. He lives in Tuscon, Arizona.

David Barsamian, director of the award-winning and widely syndicated Alternative Radio, is a winner of the Lannan Foundation's Cultural Freedom Fellowship and the ACLU's Upton Sinclair Award for independent journalism. He lives in Boulder, Colorado. His interviews with Noam Chomsky have been published as books, including Imperial Ambitions and Global Discontents.
Praise For Imperial Ambitions: Conversations on the Post-9/11 World (American Empire Project)…
"If, for reasons of chance, or circumstance, (or sloth), you have to pick just one book on the subject of the American Empire, I'd say pick this one. It's the Full Monty. It's Chomsky at his best . . . necessary reading." —Arundhati Roy
"How did we ever get to be an empire? The writings of Noam Chomsky--America's most useful citizen--are the best answer to that question." —The Boston Globe
"Unique insight into Chomsky's decades of penetrating analyses, drawn together . . . by a brilliant radio interviewer, David Barsamian." —Ben Bagdikian, winner of the Pulitzer Prize on Propaganda and the Public Mind: Conversations with Noam Chomsky