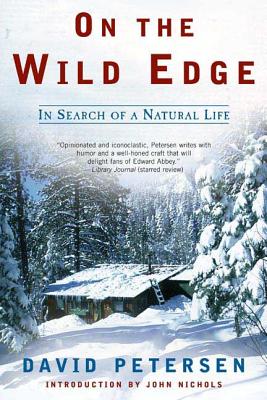 On the Wild Edge: In Search of a Natural Life (Paperback)
In Search of a Natural Life
John MacRae Books, 9780805080032, 250pp.
Publication Date: January 10, 2006
Description
"Opinionated and iconoclastic, Petersen writes with humor and a well-honed craft that will delight fans of Edward Abbey." "Library Journal" (starred review)
Twenty-five years ago David Petersen and his wife, Caroline, pulled up stakes, trading Laguna Beach, California, for a snug hand-built cabin in the wilderness. Today he knows that mountain land as intimately as anyone can know his home.
Petersen conflates a quarter century into the adventures of four high-country seasons, tracking the rigors of survival from the snowmelt that announces the arrival of spring to the decline and death of autumn and winter that will establish the fertile ground needed for next year's rebirth.
In the past we listened to Henry David Thoreau or Aldo Leopold; today it is Petersen's turn. His observations are lyrical, scientific, and from the heart. He reinforces Thoreau's dictum: "in wildness is the preservation of the earth." In prose rich with mystery and soul, his words are a plea for the survival of the remnant wilderness.
"Many of us would like to live a life of greater intention and simplicity, but few can and even fewer do. David Petersen is one of those rare human beings among us who lives a wild life with a cultured mind . . . He] has created a map all of us can follow." Terry Tempest Williams, author of "The Open Space of Democracy.
About the Author
David Petersen lives with his wife, Caroline, and a series of dogs in a little cabin on a big mountain in the American Southwest near Durango, Colorado. Prior to leaving behind a conventional life, Petersen was an officer and pilot in the U.S. Marines, managing editor of a national motorcycle magazine, two-time college graduate, mailman, beach bum, and western editor for Mother Earth News.
Praise For On the Wild Edge: In Search of a Natural Life…
"David Petersen took a different fork on the journey of life. Grab your boots and come along, it's not too late. With the heart of a mountain man, a learned eye for what really counts and a pen as precise as a high-country lightning strike, he is our guide back to our ancestral home, to the woods and the wild--to a place in the Rockies where there is nothing to buy and no shiny trinkets to distracts us."--John Blazar, author of Yukon Alone

"David Petersen--curmudgeon, woodsman, hunter, lover, ardent conservationist, hermit, hedonist, self-deprecating stylist--has written a natural history of the good life, lived large, and ethically, on pennies a day. The man can make you laugh, but there's a certain rage here as well, mostly muffled by an engaging modesty. Petersen never shakes his finger in our faces, but we still come away from these words reassessing our own lives and attitudes toward the wilderness."--Tim Cahill, author of Road Fever and Hold the Enlightenment

"Honest, outspoken, and unabashedly conscientious, Petersen is a passionate advocate for the responsible stewardship of the land and its inhabitants."--Booklist
Advertisement