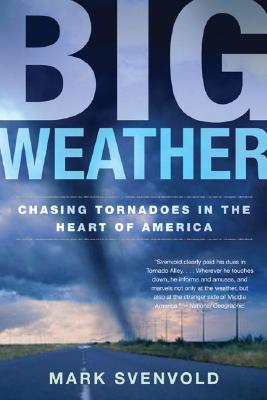 Big Weather (Paperback)
Chasing Tornadoes in the Heart of America
Holt Paperbacks, 9780805080148, 304pp.
Publication Date: May 2, 2006
Other Editions of This Title:
Hardcover (4/14/2005)
* Individual store prices may vary.
Description
"Svenvold clearly paid his dues in Tornado Alley . . . Wherever he touches down, he informs and amuses, and marvels not only at the weather, but also at the stranger side of Middle America." "--National Geographic"
Why do some people chase the kind of storms that would send most people running for their lives? Why does devastating weather maintain a primal hold on our collective imagination?
With Matt Biddle, an Ahab-like veteran storm chaser, as his guide, Mark Svenvold draws a portrait of a culture enamored by extremes during a 6,000-mile journey through the heartland. Along the way, he encounters an assortment of eccentric characters, including a duo named the Twister Sisters and an IMAX filmmaker who drives an armor-plated truck. And they're all after one thing.
At the heart of the excitement are the awe-inspiring events themselves--a tornado that levels a small Nebraska town, wild twisters that spin cars into the air and, in the case of unlucky Donald Staley, destroy three of his homes in succession.
An entertaining narrative brimming with stylish prose, "Big Weather" is a wryly observed meditation on the weather and the subculture of catastrophilia, the culture and commerce of catastrophic weather.

About the Author
Mark Svenvold's first book of nonfiction, "Elmer McCurdy: The Misadventures in Life and Afterlife of an American Outlaw," was a Book Sense 76 pick. Poet in residence at Fordham University, Svenvold has won The Nation's "Discovery" Award for poetry. He lives in New York City with his wife, the novelist Martha McPhee, and two children, Livia and Jasper.
Praise For Big Weather: Chasing Tornadoes in the Heart of America…
"A meticulously researched, well-written narrative. Big Weather is much more than an entertaining look at characters from the midway, a cast Svenvold clearly enjoys observing . . . it takes a serious look at a bigger picture." --The Philadelphia Inquirer

"A chaotic whirl . . . exhilarating."--The New York Times

"A lively, firsthand look at the cult (and culture) of storm chasers."--Entertainment Weekly
"Welcome to the world of 'storm chasers' and 'weather dweebs' . . . Be prepared to learn their language. Be prepared to be awed by what they see. Be prepared to be thrilled by Svenvold's funny, elegant descriptions of both the storms and this strange species."--Los Angeles Times

"Svenvold is a gifted storyteller; he displays a wide knowledge of classical and general literature in an easy-going fashion powered with vivid anecdotes."--New Scientist (London)

"If you're a fan of movies about extreme weather you'll definitely want to give this book a read. [Big Weather] is right up there beside such The Perfect Storm and Into Thin Air."--Booklist (starred review)

"An entertaining and fast-paced work of narrative journalism. . . . Svenvold even makes the topic of catastrophe insurance engaging. At turns wacky, macho and whimsical."--Kirkus Reviews

"Svenvold's wry, supple prose vividly captures a heartland made up of the awe-inspiring and the absurd."--Publisher's Weekly
or
Not Currently Available for Direct Purchase