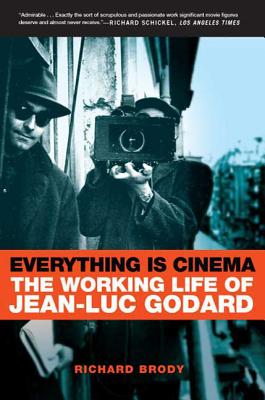 Everything Is Cinema
The Working Life of Jean-Luc Godard
Paperback

* Individual store prices may vary.
Description
From New Yorker film critic Richard Brody, Everything Is Cinema: The Working Life of Jean-Luc Godard presents a "serious-minded and meticulously detailed . . . account of the lifelong artistic journey" of one of the most influential filmmakers of our age (The New York Times).

When Jean-Luc Godard wed the ideals of filmmaking to the realities of autobiography and current events, he changed the nature of cinema. Unlike any earlier films, Godard's work shifts fluidly from fiction to documentary, from criticism to art. The man himself also projects shifting images—cultural hero, fierce loner, shrewd businessman. Hailed by filmmakers as a—if not the—key influence on cinema, Godard has entered the modern canon, a figure as mysterious as he is indispensable.

In Everything Is Cinema, critic Richard Brody has amassed hundreds of interviews to demystify the elusive director and his work. Paying as much attention to Godard's technical inventions as to the political forces of the postwar world, Brody traces an arc from the director's early critical writing, through his popular success with Breathless, to the grand vision of his later years. He vividly depicts Godard's wealthy conservative family, his fluid politics, and his tumultuous dealings with women and fellow New Wave filmmakers.

Everything Is Cinema confirms Godard's greatness and shows decisively that his films have left their mark on screens everywhere.
Praise For Everything Is Cinema: The Working Life of Jean-Luc Godard…
"Richard Brody's biography of Godard--arguably the most important, enigmatic, and exciting filmmaker of the second half of the 20th century--effortlessly weaves intellectual history, a personal saga, and an authoritative reading of the films themselves into a seamless web. It virtually crackles with intelligence, and is a must read for anyone interested in cinema." —Peter Biskind, author of Gods and Monsters: Thirty Years of Writing on Film and Culture

"Full of lucid analysis and human context, Richard Brody's book performs a heroic act in rescuing Godard and his growing shelf of works from the prison of myth and theory, from the cult of youth and the cult of the '60s, restoring him to his place as an engaged, hard-working artist." —Jonathan Lethem, author of The Fortress of Solitude

"Godard changed the movies as much as the American masters he grew up on: Welles, Hawks, Hitchcock, and the rest. He is as original as Picasso--but unlike Picasso, he has been denied the biography he has always deserved. This is it. Just at the moment when the New Wave turns fifty, Richard Brody has given us Everything is Cinema, a remarkable book which describes with sharp intelligence a great and elusive artist's times, intellect, passions, and work." —Wes Anderson, writer and director of Rushmore, The Royal Tenenbaums, and The Life Aquatic

"Everything Is Cinema is better than a biography, it is a novel. And a great novel, in which one discovers the story of a man who almost picked the wrong art form, a struggling writer who became an immense filmmaker." —Bernard-Henri Lévy, author of American Vertigo
Picador, 9780805080155, 720pp.
Publication Date: June 23, 2009
About the Author
Richard Brody is a film critic and editor at The New Yorker. Everything Is Cinema: The Working Life of Jean-Luc Godard is his first book.