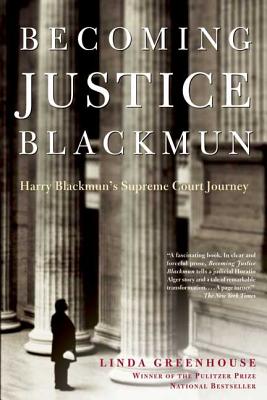 Becoming Justice Blackmun
Harry Blackmun's Supreme Court Journey
Paperback

* Individual store prices may vary.
Other Editions of This Title:
Hardcover (4/14/2005)
Description
"A fascinating book. In clear and forceful prose, Becoming Justice Blackmun tells a judicial Horatio Alger story and a tale of a remarkable transformation . . . A page-turner."—The New York Times Book Review
In this acclaimed biography, Linda Greenhouse of The New York Times draws back the curtain on America's most private branch of government, the Supreme Court. Greenhouse was the first print reporter to have access to the extensive archives of Justice Harry A. Blackmun (1908–99), the man behind numerous landmark Supreme Court decisions, including Roe v. Wade.
Through the lens of Blackmun's private and public papers, Greenhouse crafts a compelling portrait of a man who, from 1970 to 1994, ruled on such controversial issues as abortion, the death penalty, and sex discrimination yet never lost sight of the human beings behind the legal cases. Greenhouse also paints the arc of Blackmun's lifelong friendship with Chief Justice Warren E. Burger, revealing how political differences became personal, even for two of the country's most respected jurists.
From America's preeminent Supreme Court reporter, this is a must-read for everyone who cares about the Court and its impact on our lives.
Praise For Becoming Justice Blackmun: Harry Blackmun's Supreme Court Journey…
"[A] wonderful book . . . one of the most intimate and revealing portraits of the relationship between two justices ever achieved." —Jeffrey Rosen, The New York Times
"A graceful account, filled with well-chosen quotations, apt observations and elegant legal summaries." —The Washington Post Book World
"Reprises in rich, thoughtful, and more extensive detail the main emotional and interpretive threads of Blackmun's career." —David J. Garrow, The New Republic
"Highly readable and interesting . . . Greenhouse has mined [Blackmun's private papers] brilliantly to create a moving narrative." —Los Angeles Times
"A riveting account of [Blackmun's] life." —Anna Quindlen, Newsweek
"[A] fascinating volume . . . Becoming Justice Blackmun is as welcome as it is interesting . . . informative and moving." —The Washington Times
"Should inform anyone with an interest in the law and how the court operates . . . Blackmun, a precise writer and exacting editor, would approve." —USA Today
"A model biography of a Supreme Court justice . . . Greenhouse delivers a crystal-clear, and sometimes painful, portrait of the way personality shapes history." —The Courier-Journal (Louisville)
"Greenhouse sets a high standard in offering an intimate look both at the man and at the development of his judicial thought." —Publishers Weekly, starred review
Times Books, 9780805080575, 288pp.
Publication Date: April 4, 2006
About the Author
Linda Greenhouse has covered the Supreme Court for The New York Times since 1978 and won a Pulitzer Prize in 1998 for her reporting on the Court. She appears regularly on the PBS program Washington Week and lectures frequently on the Supreme Court at colleges and law schools. She graduated from Radcliffe College at Harvard University and holds a master of studies in law from Yale Law School. She lives outside Washington, D.C.