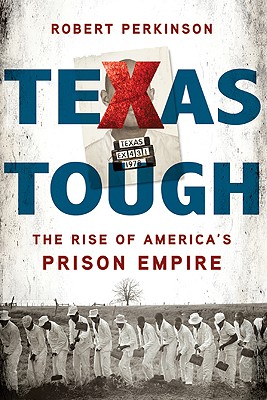 Texas Tough: The Rise of America's Prison Empire (Hardcover)
The Rise of America's Prison Empire
Metropolitan Books, 9780805080698, 496pp.
Publication Date: March 16, 2010
* Individual store prices may vary.
or
Not Currently Available for Direct Purchase
Description
A vivid history of America's biggest, baddest prison system and how it came to lead the nation's punitive revolution
In the prison business, all roads lead to Texas. The most locked-down state in the nation has led the way in criminal justice severity, from assembly-line executions to isolation supermaxes, from prison privatization to sentencing juveniles as adults. Texas Tough, a sweeping history of American imprisonment from the days of slavery to the present, shows how a plantation-based penal system once dismissed as barbaric became the national template.
Drawing on convict accounts, official records, and interviews with prisoners, guards, and lawmakers, historian Robert Perkinson reveals the Southern roots of our present-day prison colossus. While conventional histories emphasize the North's rehabilitative approach, he shows how the retributive and profit-driven regime of the South ultimately triumphed. Most provocatively, he argues that just as convict leasing and segregation emerged in response to Reconstruction, so today's mass incarceration, with its vast racial disparities, must be seen as a backlash against civil rights.
Illuminating for the first time the origins of America's prison juggernaut, Texas Tough points toward a more just and humane future.
About the Author
Robert Perkinson is a professor of American studies at the University of Hawaii at Manoa. His writing has appeared in "The Nation," "The Progressive," and "Boston Review," among other venues. "Texas Tough" is his first book. He lives in Honolulu, Hawaii.
Praise For Texas Tough: The Rise of America's Prison Empire…
Winner of the 2011 PEN/John Kenneth Galbraith Award "A searching history of American incarceration, and an important reckoning with our societal responsibility… An alarming indictment, built on passionate and exhaustive research."
—The New York Times Book Review "Compelling... A gripping history lesson and a fascinating read."—San Francisco Chronicle "Perkinson makes a convincing case that mass incarceration is the most pressing civil rights issue today… Essential reading if the nation ever hopes to move in a different, less-punitive and more-rehabilitative direction."—The Boston Globe "Takes readers on an eminently horrifying journey into America's own heart of darkness."—Columbia Journalism Review "A well-researched and compellingly-written genealogy of the contemporary model of retributive justice… Brings out the horrors of mass imprisonment and the need for systemic change."
—The Indypendent "A rich narrative… Perkinson directs the clear light of reason onto the Lone Star State."—The Morning News "An intensively researched, disturbing history of American penology… A convincing and discouraging argument that the Texas model of a profit-making, retributive prison system has become the national template."
—Kirkus Reviews "Sheds light on the evolution of penal systems across the country… A fascinating and often deeply troubling book."
—Booklist "Texas Tough is a raw, compelling assessment of racial disparity and southern culture as they have determined the massive over-incarceration of African Americans. If you want to understand how politics, not crime control, governs today's prison population, read this book. Anyone concerned with justice and fairness should place this on their must-read list."
—Charles J. Ogletree Jr., Jesse Climenko Professor of Law, Harvard Law School, and author of When Law Fails "This book is a Texas Death Match between David (Robert Perkinson) and Goliath (the American prison system). Goliath is armed, violent, massive, and hard to bring down, but David has a sling and a book full of smooth stones taken from the brook of history."
—Marcus Rediker, author of The Slave Ship: A Human History "Texas Tough is a powerful study of the Texas prison system, its profit-driven administration, its history and its critical impact on the U.S. national prison system. Based on superb research that traces the racial assumptions of today's criminal system to the ideas of race developed during American slavery, Texas Tough is a gracefully written work of wide-ranging, impressive historical knowledge."
—James Oliver Horton, author of Landmarks of African American History "A brilliant and riveting account of the nation's most important prison system. Perkinson describes its growth with extraordinary care given to the daily lives of the inmates, the institutional structures, and the philosophy of punishment (including the death penalty) that seem immune to innovation and reform. Texas provides a perfect lens to study America's exploding prison problems today, and Perkinson in an ideal guide. As both an original history of punishment and a critique of current issues of race, violence, and incarceration, Texas Tough is in a class by itself."
—David Oshinsky, author of "Worse Than Slavery": Parchman Farm and the Ordeal of Jim Crow Justice "The United States maintains the largest penal system in the world. With his powerful story of the prisons of Texas, Robert Perkinson shows how we came to this desperate condition. It is a story we all need to understand and there is no better place to comprehend the origins and evolution of this national tragedy."
—Edward Ayers, author of The Promise of the New South  "Texas Tough is a gripping work of history, but its most important lesson is about the country we live in today. We cannot fulfill America's promise of liberty and justice until we address the crisis of mass incarceration. Every social justice advocate and policy maker in the nation needs to read this book."
—Ann Beeson, Executive Director, Open Society Institute "Texas Tough is the most important history of crime and punishment in America since David Rothman's The Discovery of the Asylum. It will transform our understanding of not only crime and punishment but also the nature of historical change in the United States, which is not driven, as we believe, by progress or even the idea of progress, but by regress. Robert Perkinson shows us that the past continuously structures and constrains every effort to re-imagine and reform the present. This is no small achievement."
—Corey Robin, author of Fear: The History of a Political Idea  "Texas Tough shows that the politics of race has always governed the politics of punishment and explains why our criminal justice system is the frontline of America's human rights struggle in the twenty-first century. This book is a must-read for anyone who wants to build a stronger America and put these decades of over-incarceration (and under-education) of Americans behind us."
—Benjamin Todd Jealous, President, NAACP
Advertisement