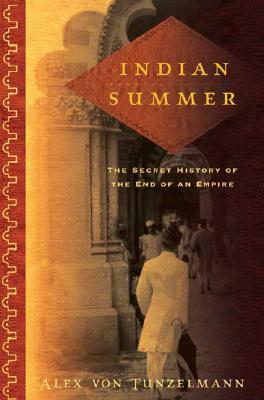 Indian Summer
The Secret History of the End of an Empire
Hardcover

* Individual store prices may vary.
Other Editions of This Title:
Paperback (9/30/2008)
Description
An extraordinary story of romance, history, and divided loyalties--set against the backdrop of one of the most dramatic events of the twentieth century The stroke of midnight on August 15, 1947, liberated 400 million people from the British Empire. With the loss of India, its greatest colony, Britain ceased to be a superpower, and its king ceased to sign himself Rex Imperator.
This defining moment of world history had been brought about by a handful of people. Among them were Jawaharlal Nehru, the fiery Indian prime minister; Mohammed Ali Jinnah, the leader of the new Islamic Republic of Pakistan; Mohandas Gandhi, the mystical figure who enthralled a nation; and Louis and Edwina Mountbatten, the glamorous but unlikely couple who had been dispatched to get Britain out of India. Within hours of the midnight chimes, their dreams of freedom and democracy would turn to chaos, bloodshed, and war.
Behind the scenes, a secret personal drama was also unfolding, as Edwina Mountbatten and Jawaharlal Nehru began a passionate love affair. Their romance developed alongside Cold War conspiracies, the beginning of a terrible conflict in Kashmir, and an epic sweep of events that saw one million people killed and ten million dispossessed.
Steeped in the private papers and reflections of the participants, Indian Summer reveals, in vivid, exhilarating detail, how the actions of a few extraordinary people changed the lives of millions and determined the fate of nations.
Praise For Indian Summer: The Secret History of the End of an Empire…
"Indian Summer is a true tour de force: absorbing in its detail and masterly in the broad sweep of its canvas."—Sir Martin Gilbert, author of The Somme
"Indian Summer is outstandingly vivid and authoritative. Alex von Tunzelmann brings a lively new voice to narrative history-writing."—Victoria Glendinning, author of Leonard Woolf
"Alex von Tunzelmann is a wonderful historian, as learned as she is shrewd. But she is also something more unexpected: a writer with a wit and an eye for character that Evelyn Waugh would surely have admired."—Tom Holland, author of Rubicon and Persian Fire
"An engaging, controversial, very lively and, at times, refreshingly irreverent tour de force. Alex von Tunzelmann has written a dramatic story, laced with tragedy and farce, and done so very well; a remarkable debut."—Lawrence James, author of The Middle Class: A History and Raj: The Making and Unmaking of British India
"This is history as multiple, interconnected biography . . . a book more concerned with the smaller, more colorful threads of individual character than with the broader tapestry of history and retrospective judgment. . . . Indian Summer achieves something both simpler and rarer, placing the behavior and feelings of a few key players at the center of a tumultuous moment in history."—New York Times Book Review
"A fascinating book that may well change how we look on the benighted world in which we live today."—Los Angeles Times
"In 'Indian Summer', Alex von Tunzelmann pays particular attention to how negotiations were shaped by an interplay of personalities. . . . her account, unlike those of some of her fellow British historians, isn't filtered by nostalgia."—The New Yorker
Henry Holt and Co., 9780805080735, 416pp.
Publication Date: August 7, 2007
About the Author
Alex von Tunzelmann was educated at Oxford and lives in London. Indian Summer is her first book.
or
Not Currently Available for Direct Purchase