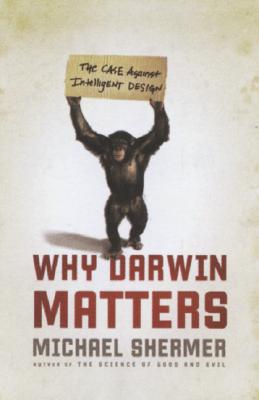 Why Darwin Matters: The Case Against Intelligent Design (Hardcover)
The Case Against Intelligent Design
Times Books, 9780805081213, 224pp.
Publication Date: August 8, 2006
* Individual store prices may vary.
or
Not Currently Available for Direct Purchase
Description
A creationist-turned-scientist demonstrates the facts of evolution and exposes Intelligent Design's real agenda
Science is on the defensive. Half of Americans reject the theory of evolution and "Intelligent Design" campaigns are gaining ground. Classroom by classroom, creationism is overthrowing biology.
In Why Darwin Matters, bestselling author Michael Shermer explains how the newest brand of creationism appeals to our predisposition to look for a designer behind life's complexity. Shermer decodes the scientific evidence to show that evolution is not "just a theory" and illustrates how it achieves the design of life through the bottom-up process of natural selection. Shermer, once an evangelical Christian and a creationist, argues that Intelligent Design proponents are invoking a combination of bad science, political antipathy, and flawed theology. He refutes their pseudoscientific arguments and then demonstrates why conservatives and people of faith can and should embrace evolution. He then appraises the evolutionary questions that truly need to be settled, building a powerful argument for science itself.
Cutting the politics away from the facts, Why Darwin Matters is an incisive examination of what is at stake in the debate over evolution.
About the Author
Michael Shermer is the author of "The Believing Brain," "Why People Believe Weird Things," "The Science of Good and Evil," "The Mind Of The Market," "Why Darwin Matters," "Science Friction," "How We Believe" and other books on the evolution of human beliefs and behavior. He is the founding publisher of "Skeptic" magazine, the editor of Skeptic.com, a monthly columnist for "Scientific American," and an adjunct professor at Claremont Graduate University. He lives in Southern California.
Praise For Why Darwin Matters: The Case Against Intelligent Design…
"The idea that evolution and God should be at odds is among the strangest of doctrines, an attempt to make the divine follow our particular notions of how He should operate. Michael Shermer explains what really happened, in terms that should be accessible to any faithful reader."--Bill McKibben

"Michael Shermer is one of America's necessary minds. A reformed fundamentalist who is now an experienced foe of pseudo-science and superstition, he does us the double favor of explaining exactly what creationists believe, and then of demonstrating that they have no case. With his forensic and polemical skill, he could have left them for dead: instead he generously urges them to stop wasting their time (and ours) and do some real work."--Christopher Hitchens "A readable and well-researched book on what is perhaps the most vital scientific topic of our age. Anyone who has been snowed into thinking that there is a real scientific controversy over evolution by natural selection will be enlightened by Why Darwin Matters, which is both genial and intellectually uncompromising."--Steven Pinker
Advertisement