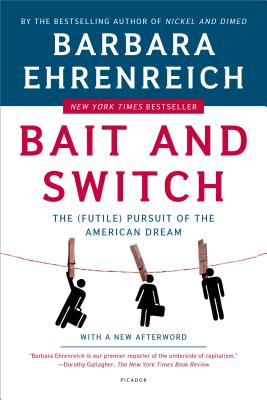 Bait and Switch (Paperback)
The (Futile) Pursuit of the American Dream
Owl Books (NY), 9780805081244, 248pp.
Publication Date: July 25, 2006
Description
The New York Times bestselling investigation into white-collar unemployment from "our premier reporter of the underside of capitalism"--The New York Times Book Review
Americans' working lives are growing more precarious every day. Corporations slash employees by the thousands, and the benefits and pensions once guaranteed by "middle-class" jobs are a thing of the past.
In Bait and Switch, Barbara Ehrenreich goes back undercover to explore another hidden realm of the economy: the shadowy world of the white-collar unemployed. Armed with the plausible resume of a professional "in transition," she attempts to land a "middle-class" job. She submits to career coaching, personality testing, and EST-like boot camps, and attends job fairs, networking events, and evangelical job-search ministries. She is proselytized, scammed, lectured, and--again and again--rejected.
Bait and Switch highlights the people who have done everything right--gotten college degrees, developed marketable skills, and built up impressive resumes--yet have become repeatedly vulnerable to financial disaster. There are few social supports for these newly disposable workers, Ehrenreich discovers, and little security even for those who have jobs. Worst of all, there is no honest reckoning with the inevitable consequences of the harsh new economy; rather, the jobless are persuaded that they have only themselves to blame.
Alternately hilarious and tragic, Bait and Switch, like the classic Nickel and Dimed, is a searing expose of the cruel new reality in which we all now live.
About the Author
Barbara Ehrenreich is the bestselling author of Nickel and Dimed, Bright-sided, This Land Is Their Land, Dancing in the Streets and Blood Rites, among others. A frequent contributor to Harper's and The Nation, she has also been a columnist at The New York Times and Time magazine. She is the winner of the L.A. Times Book Prize for Current Interest and ALA Notable Books for Nonfiction. Ehrenreich was born in Butte, Montana, when it was still a bustling mining town. She studied physics at Reed College, and earned a Ph.D. in cell biology from Rockefeller University. Rather than going into laboratory work, she got involved in activism, and soon devoted herself to writing her innovative journalism. She lives and works in Florida.
Advertisement