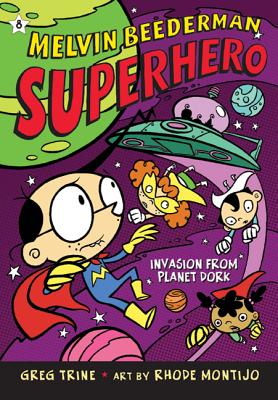 Invasion from Planet Dork (Melvin Beederman Superhero #8) (Paperback)
Henry Holt & Company, 9780805081671, 138pp.
Publication Date: June 22, 2010
Description
A few million miles away from Los Angeles, danger is lurking. Evil aliens with some seriously hard to pronounce names like Zzykrkv are visiting earth from their home planet, Dork--to kidnap earthlings for their science class
While busy on a snack food errand . . . uh, mission . . . Melvin Beederman, official superhero of Los Angeles, senses that something doesn't feel quite right. Can Melvin, Candance, and friends from the Superhero Academy prevail over extraterrestrial bad guys with a spaceship powered by a Gamma drive? Holy alien invasion
About the Author
GREG TRINE is the author of the Melvin Beederman, Superhero books. He is also the author of the young adult book, The Second Base Club. He lives with his family in his Southern California hideout.RHODE MONTIJO is Superhero Greg's sidekick. He enjoys creating art from his topsecret headquarters in California.
Praise For Invasion from Planet Dork (Melvin Beederman Superhero #8)…
Praise for Melvin Beederman: "A fun, flighty caper. Slyly sprinkled with borrowings from superhero tales and packed with kid-pleasing yucks, this copiously and comically illustrated tale is sufficiently full of baloney to fly."
—Publishers Weekly "Trine's fast-paced, humorous new series will capture the hearts of bright new readers."—Jody Fickes Shapiro, Adventures for Kids, Ventura, CA  "Trine and Montijo have given readers an appealing superhero and his trusty assistant. These delightfully entertaining adventure stories are a must-have for most libraries."—School Library Journal
Advertisement