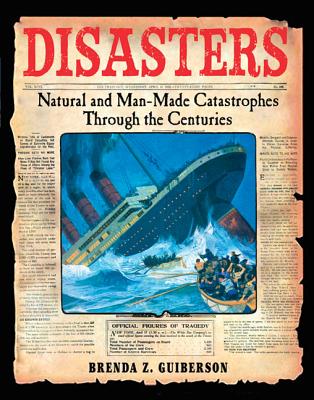 Disasters: Natural and Man-Made Catastrophes Through the Centuries (Hardcover)
Natural and Man-Made Catastrophes Through the Centuries
Henry Holt & Company, 9780805081701, 228pp.
Publication Date: June 8, 2010
Description
Natural and man-made disasters have the power to destroy thousands of lives very quickly. Both as they unfold and in the aftermath, these forces of nature astonish the rest of the world with their incredible devastation and magnitude. In this collection of ten well-known catastrophes such as the great Chicago fire, the sinking of the Titanic, and hurricane Katrina, Brenda Guiberson explores the causes and effects, as well as the local and global reverberations of these calamitous events. Highlighted with photographs and drawings, each compelling account tells the story of destruction and devastation, and most especially, the power of mankind to persevere in the face of adversity.
About the Author
Brenda Z. Guiberson has written many books for children, including Cactus Hotel, Spoonbill Swamp, and Moon Bear. As a child, Brenda never thought she wanted to be a writer--her dreams tended more toward jungle explorer. She graduated from the University of Washington with degrees in English and Fine Art. She started thinking about writing for children when her son went to elementary school, and she volunteered in his class and in the school library. After taking exciting trips that involved a fifty-foot cactus, hungry alligators and sunset-colored spoonbills, she wanted to create books for children that would be like a field trip. Her books are full of well-researched detail, and Brenda sees this research as an adventure--one that allows her to be a jungle explorer at last. She lives in Seattle, Washington.
Praise For Disasters: Natural and Man-Made Catastrophes Through the Centuries…
"A perfect example of solid historical research coupled with engaging writing." --School Library Journal
"Useful for research and often fascinating, this is a very readable presentation of historical disasters." --Booklist
"Good for pleasure reading and as a starting point for research." --Kirkus Reviews
Advertisement